Get in touch with us today for your FREE quote.

Price example, from Torrevieja / Alicante Spain to London UK.
9100 euro, and that is about 7750 pounds.
If you want our service, contact us as soon as possible.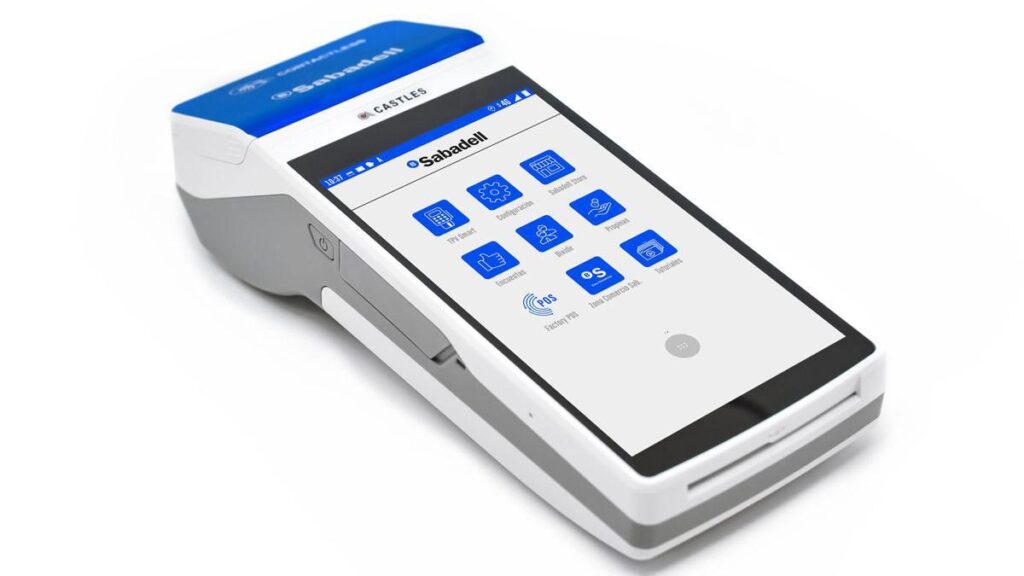 How to pay:
Bank transfer, or with Master Card / Visa Card.
We have a bank terminal from Banco Sabadell of Spain, that we have with us when we visit you at the hospital or in your home with your relatives.

Everything to make it as smooth as possible.
Here below you can click on a language.
Här nedan kan du välja vilket språk du vill ha.
Nedenfor kan du velge hvilket språk du ønsker.
Hier können Sie die gewünschte Sprache auswählen.
Ici, vous pouvez choisir la langue que vous voulez.
Contact us for a price.
We normally respond within 5 minutes,
Between 9 am to 8 pm, Every day of the year.
Whatsapp. 0034-666169726
Let us know from which city in Spain to which area in UK, with postal code,
(Or if the transport is to go to another EU country. Such as Scandinavia, France, Germany …)
We provide in the Euro currency and in the country's currencies such as SE, DK, NO, PL, HR, CZ, BG and RU. So that you can see it in your own currency
To English customers we can give a price in Euros and in Pounds.
E-mail. Info@private-ambulance.eu
On E-mail, we respond as soon as possible
Or call us. 0034-666169726
We speak English, Spanish and Scandinavian.
We have been transporting patients since 2014.
Get in touch with us today for your FREE quote.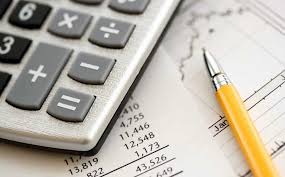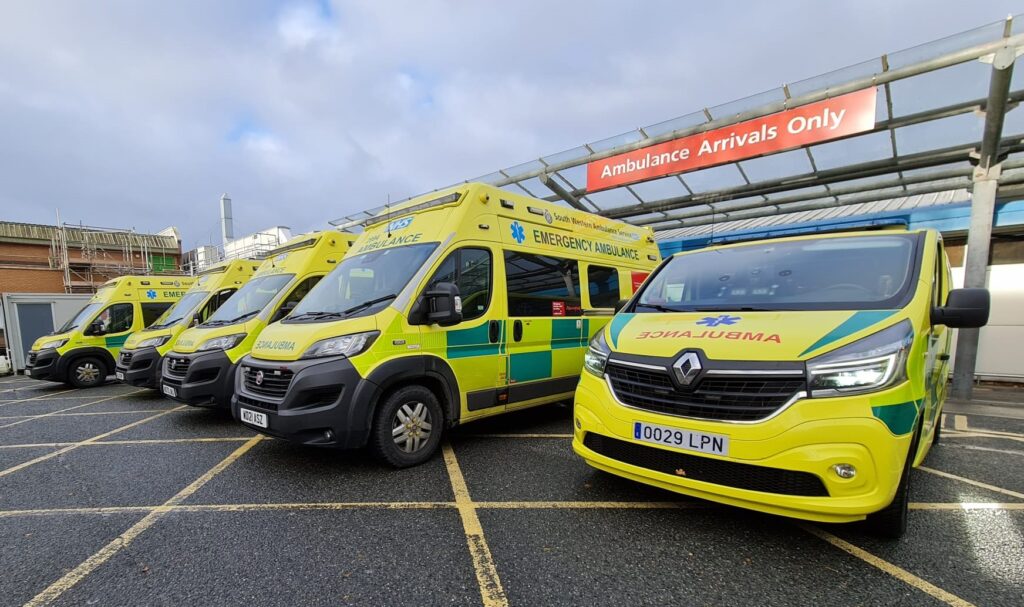 Where do we pick up our clients:

At the clients house in spain.

At the nursing home.

In the general hospital.

At the private hospital.

Where do we leave our clients after transport:

At the clients house.

At the nursing home.

In the general hospital, where the clients want to go. (ambulance admission).

At the private hospital.
The picture was taken between Germany and Denmark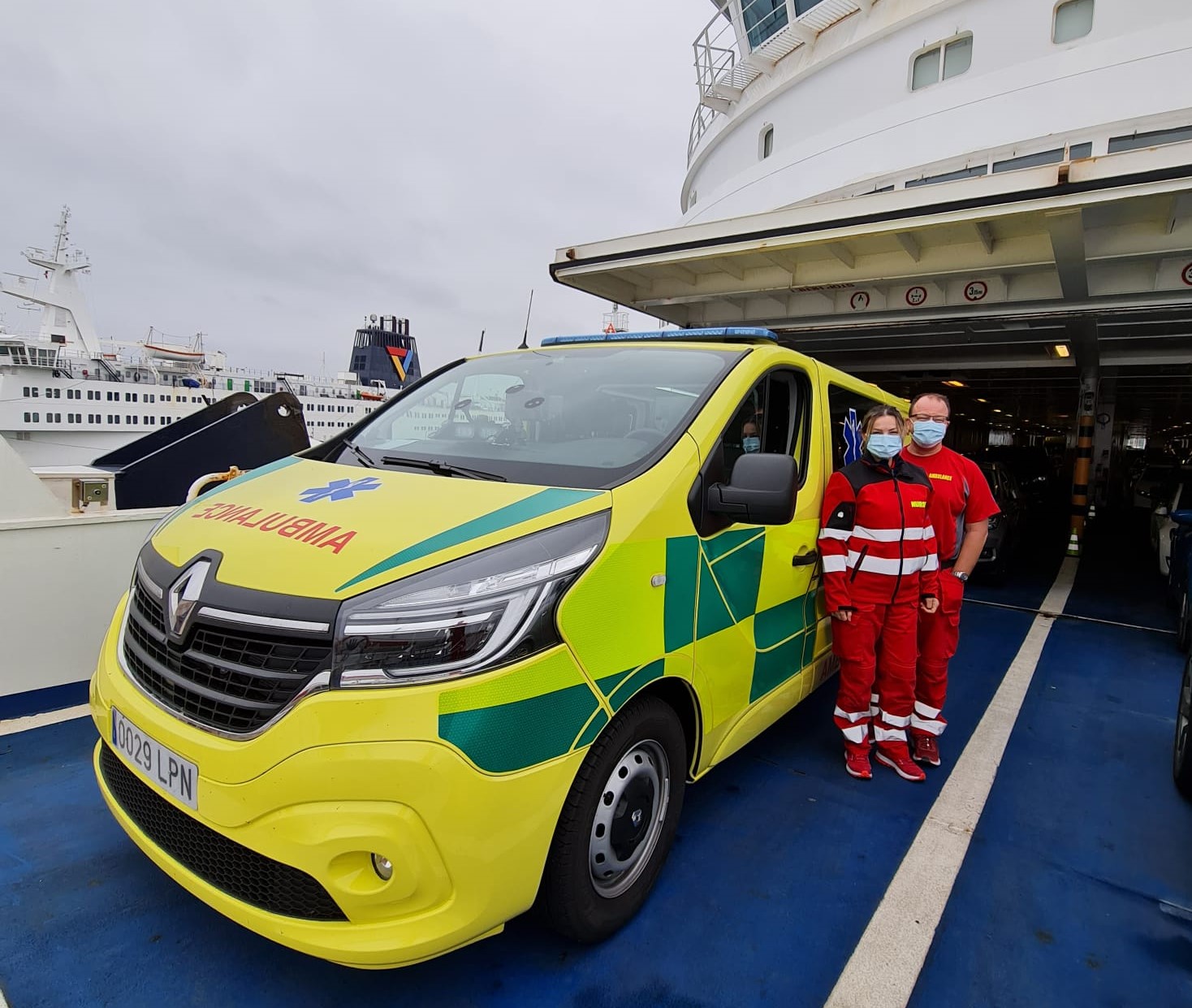 .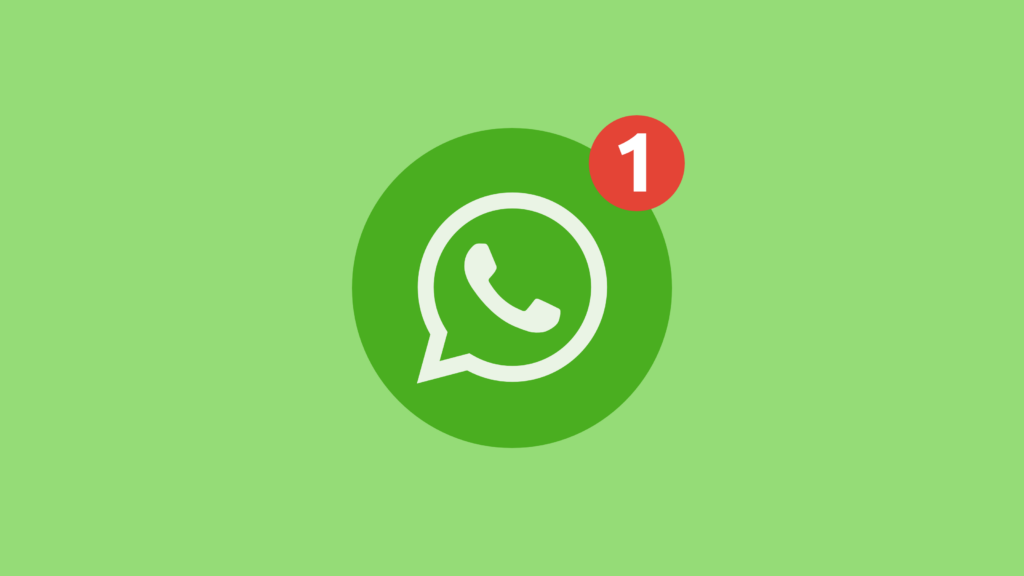 23/1-2023 We received a Whatsapp message from Phil Hodgson
Richard, Thank you for transporting both my Dad and myself back to UK from Spain after my dads stroke. You and your team have been amazing from start to finish. Professional standards throughout the whole experience from both yourself and your co driver Alexander to your nurse Georgia in the back with Dad. It was all about the care and compassion shown to dad which has impressed me and my family. You made the effort to come and see me at the hospital and made it so easy in the booking process, it not only relieved me of the stress but gave me more time to focus on Dad. I am so glad we found you and just want to say a Massive THANK YOU for everything. I wish you and your team all the very best for the future. Five star review from myself and would recommend you to anyone who might find themselves in the same situation as we find ourselves in. Please feel free to pass on my details to any future customers for review. Best Wishes Phil Hodgson
Thanks Phil Hodgson for the good review.

Best wishes to your father and your family.
Richard with crew
———————————————————————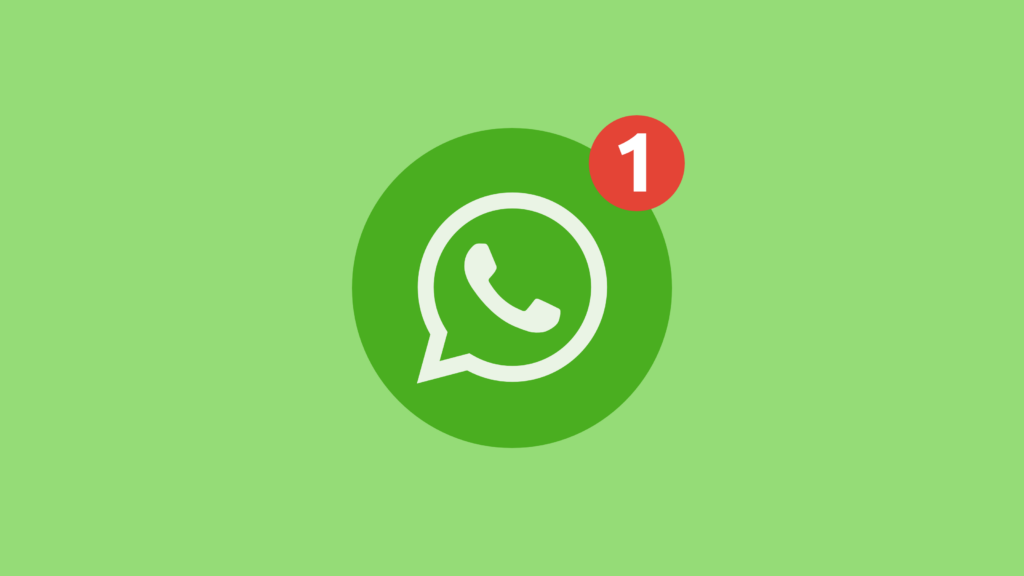 30/7-2022 We received a Whatsapp message from Amanda Herd
My family and I would like to say a big thank to Richard and his team for getting my dad back safe and sound to the UK. From my initial contact, his various visits, reassurance for my parents, the pick up, journey and final hand over at the hospital the team were amazing. I can thoroughly recommend them and would be happy to speak to any with doubts. 1st class service, although I hope we don't need to use them again! Thank you so much we will always be telling our friends and family how great you were // Amanda Herd 👍👍👍👍

Thanks Amanda for the good review.
Best wishes to your father, mother and your family.
Richard with crew

——————————————————————————————————————————————————————————-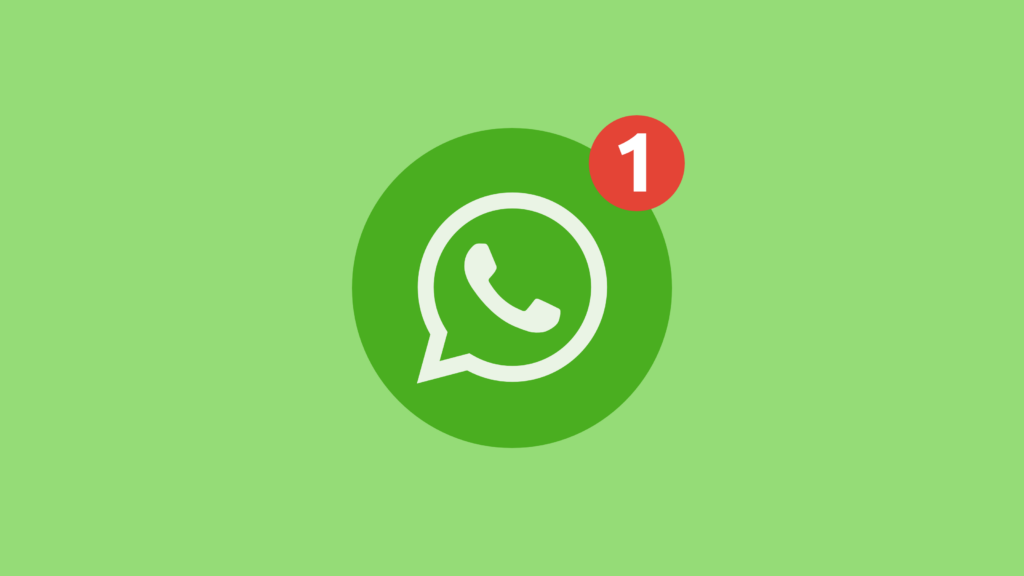 21/7-2021
We received a Whatsapp message from Danny Gilding
I would just like to write and send thanks to all those at at Private ambulance eu.
Their professionalism was second to none.
My fathers journey back to the UK from Spain was without hitch and very well organised.
The planning, pick up from the hospital , pcr testing was all done with ease.
Thank you to Richard and his people for a very good journey and at a very reasonable rate.
Highly advised and Highly recommended
Danny Gilding
Thanks Danny for the good review.
Best wishes to your father and your family.
Richard with crew
We make Passenger Information Form, for the patient and the relative, if they want to accompany the ambulance.
We provide road ambulance repatriation services from all over Spain to all European countries and UK.
Just because we are in Spain, Can we have a dialogue with the doctor before transport.

If for some reason the patient cannot be transported on the appointed day, the transport is moved forward until the patient is stable for a transport.

Therefore, it is good to use us. Doesn't cost any extra ! for a new ambulance transport.

That is the advantage of using us, we have a dialogue with the hospital.

Our staff talk to the doctors in their language.

All of our nurses speak Spanish and English.
What is the process?
You contact us, E-mail, Phone or Whatsapp. When you want a price for an ambulance transport.
To UK
Another EU country.
We just need to know, from where and to.
We visit the home or the hospital.
Once you have decided on our service and have paid for the transport, we contact the hospital and coordinate with the doctor who is responsible for the patient, when the transport can take place.
(When the patient is ready for transport is decided by the responsible doctor at the hospital).
If the transport is to be from home, we need information from the family doctor, a medicine report which states which medicines should be taken daily. (As many have at home.)
If you have any medical reports, that is also good.
We only need medical documents when the transport has begun.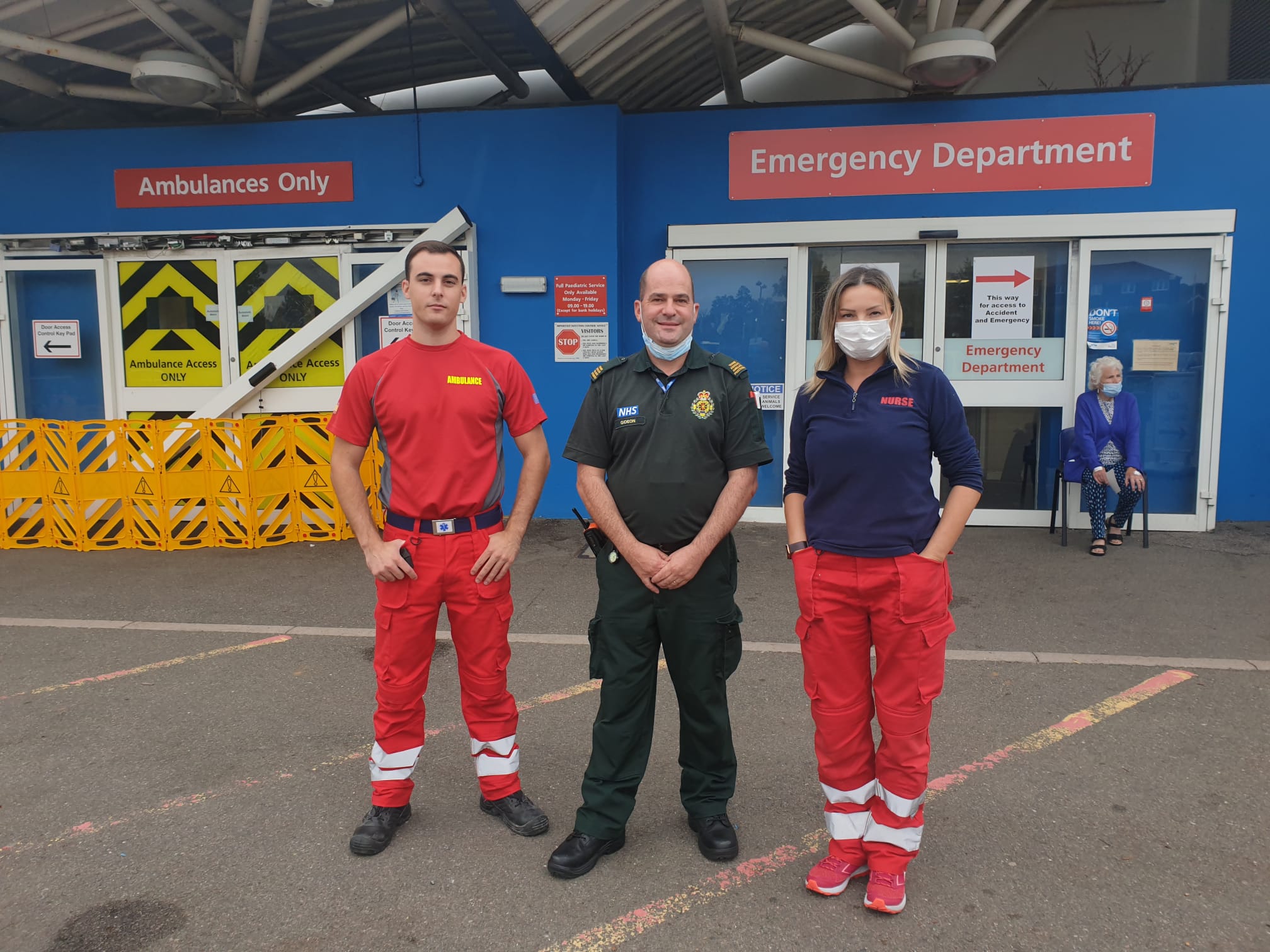 Maidstone Hospitalitle
Short Description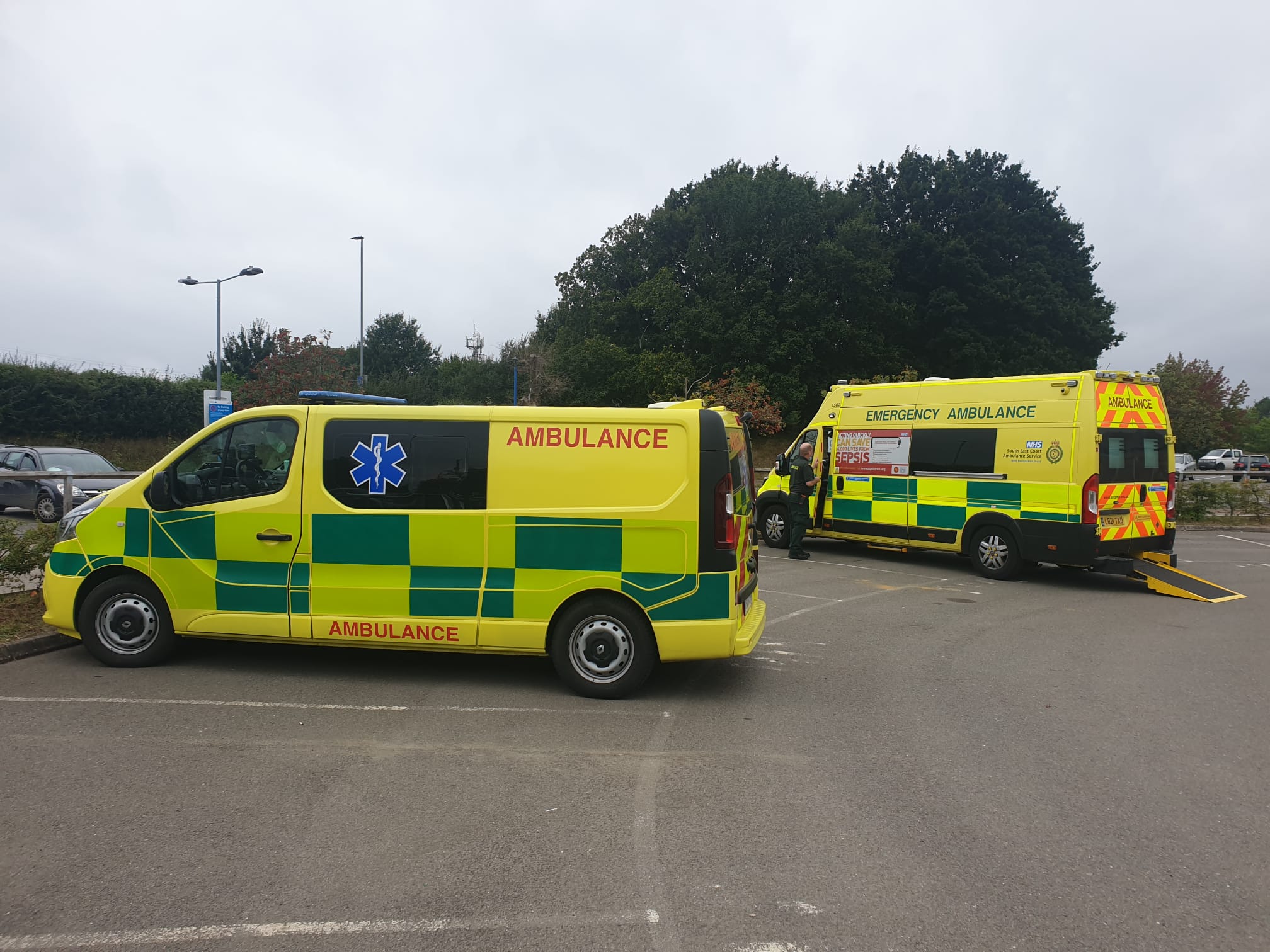 Maidstone Hospitalitle
Short Description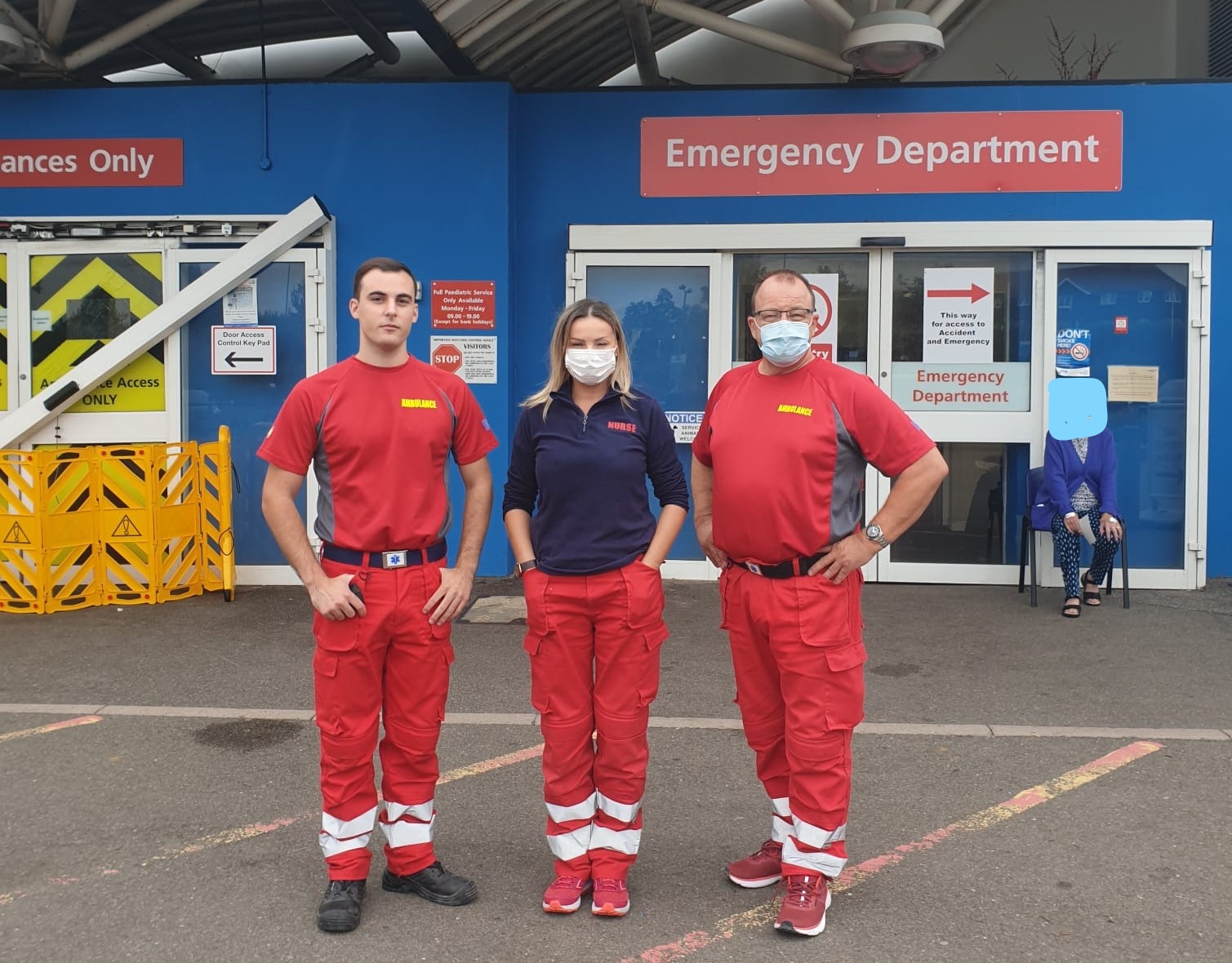 Maidstone Hospitalitle
Short Description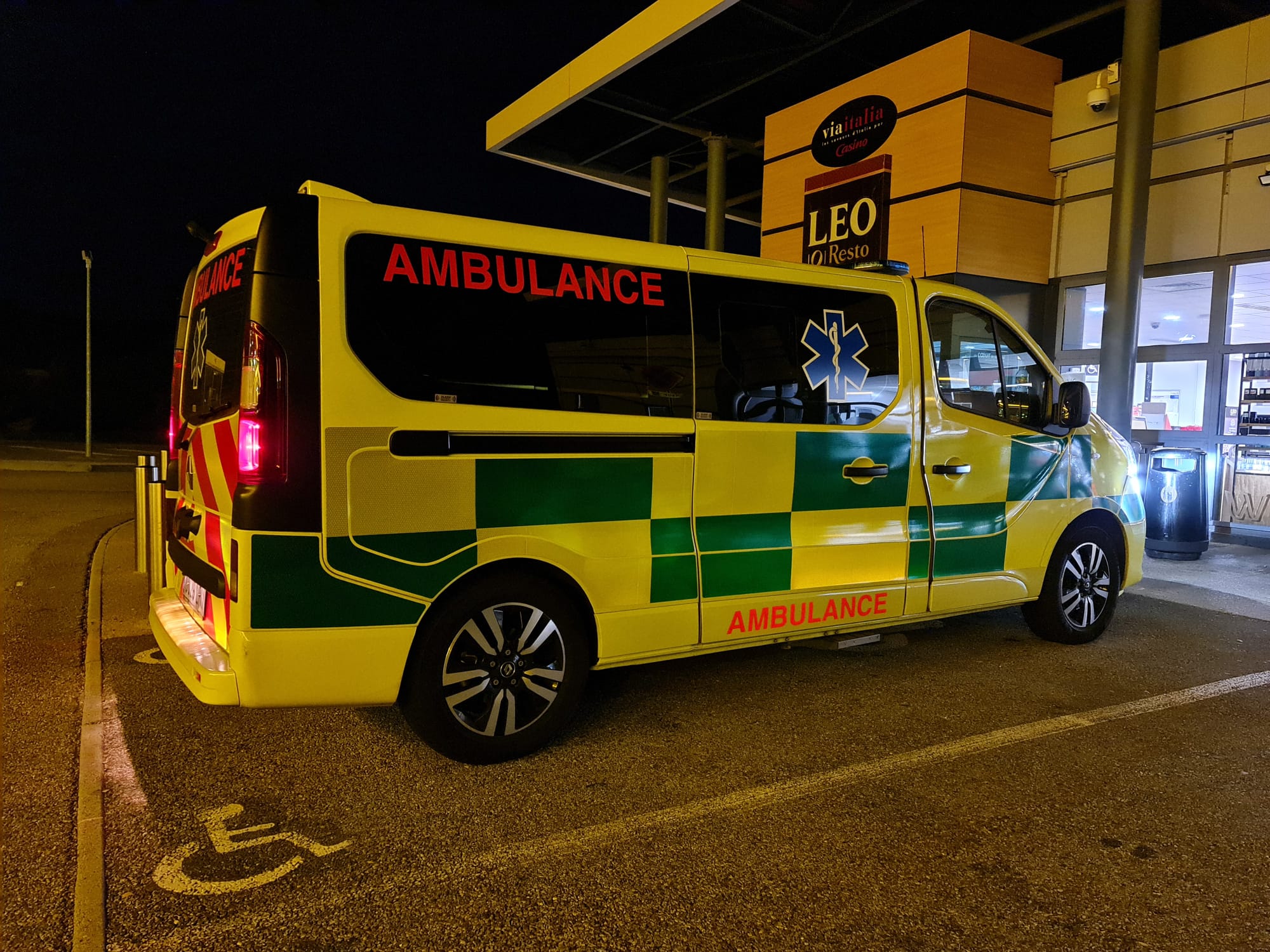 A little coffee break for all of us,
It includes the Patient to. 🙂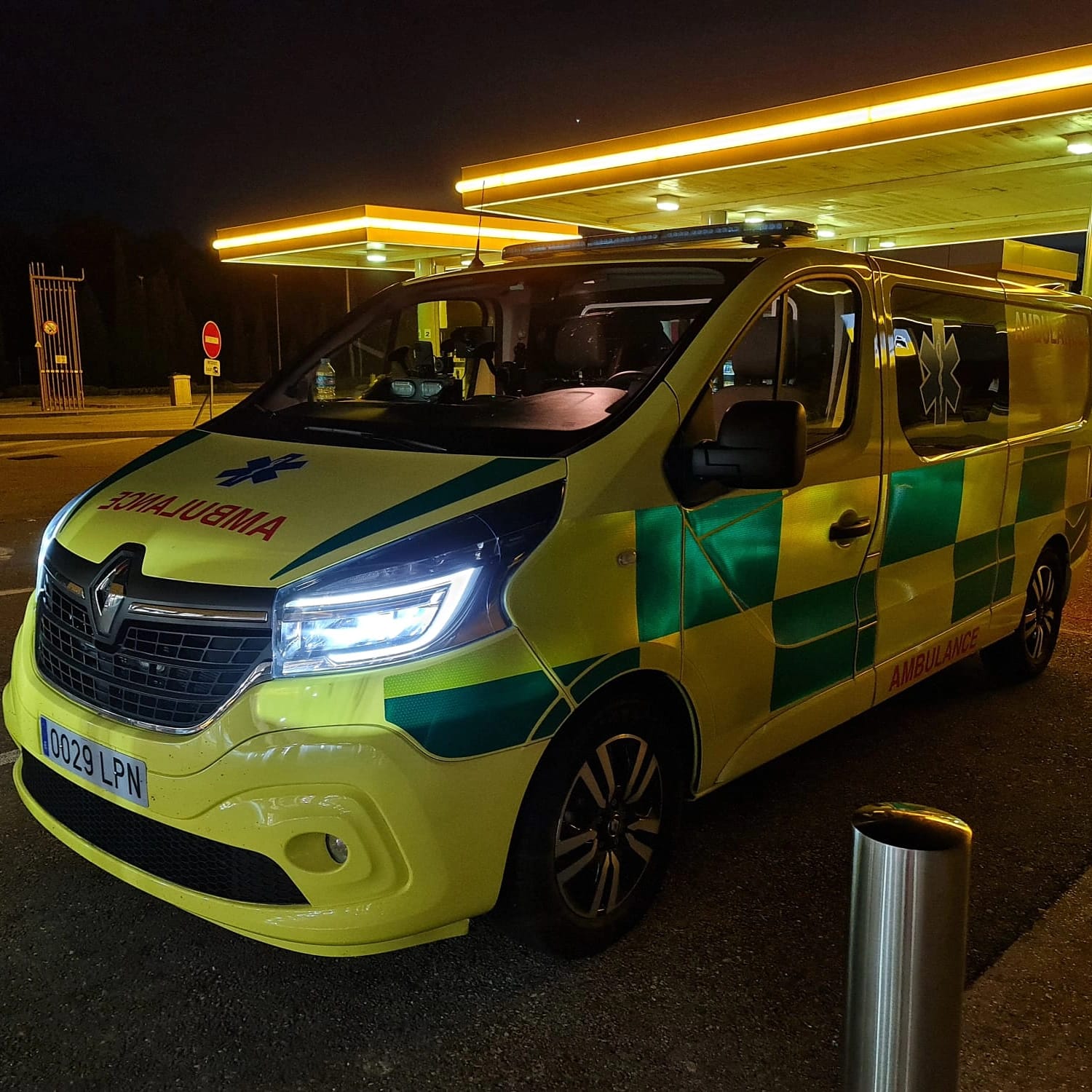 Near Calais
Should it be at a special time for medicine. Just park the ambulance and give medicine and wait until it's done.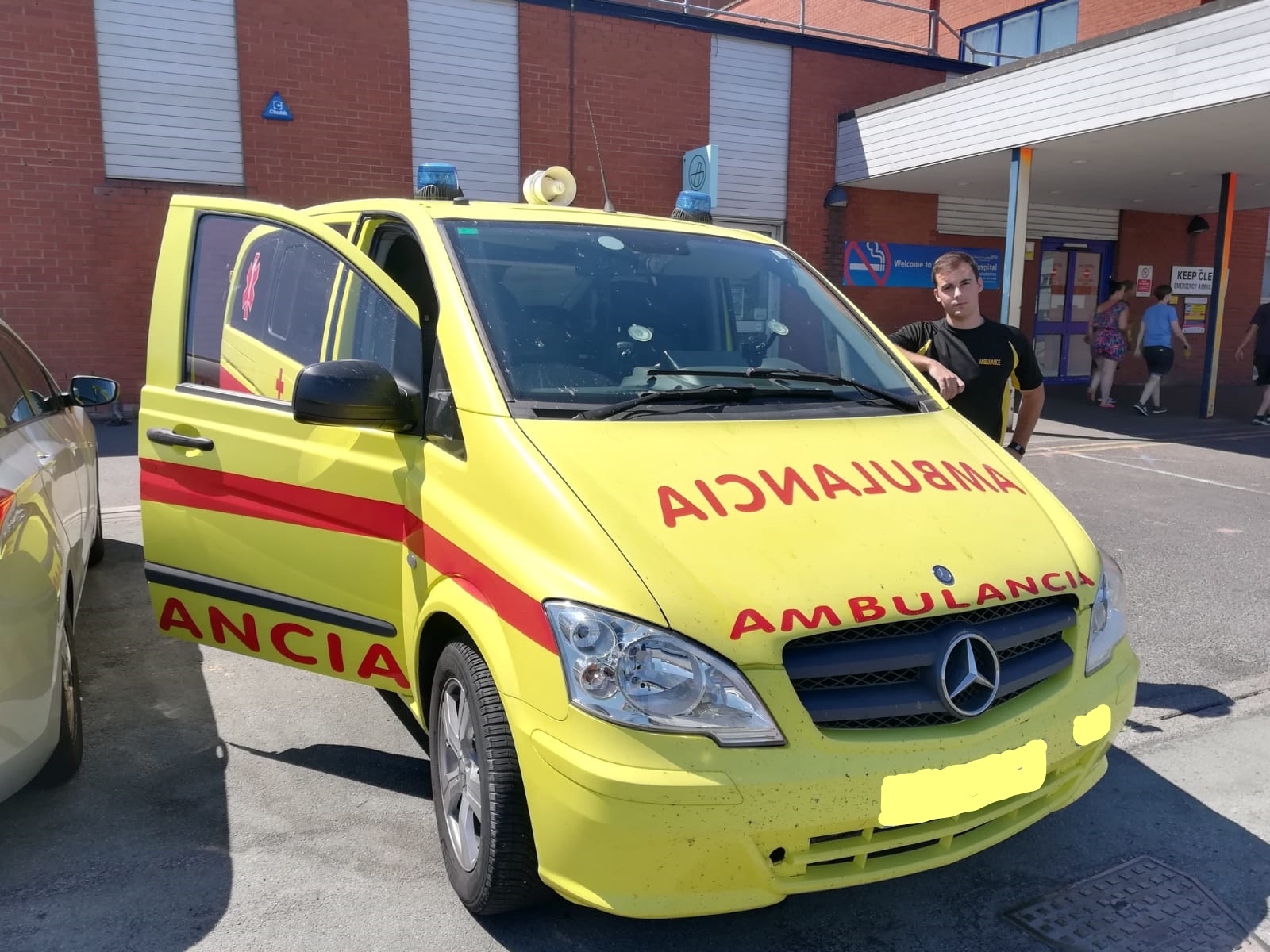 Completed work at the Emergency Hospital, Arrowe Park Hospital in Liverpool UK.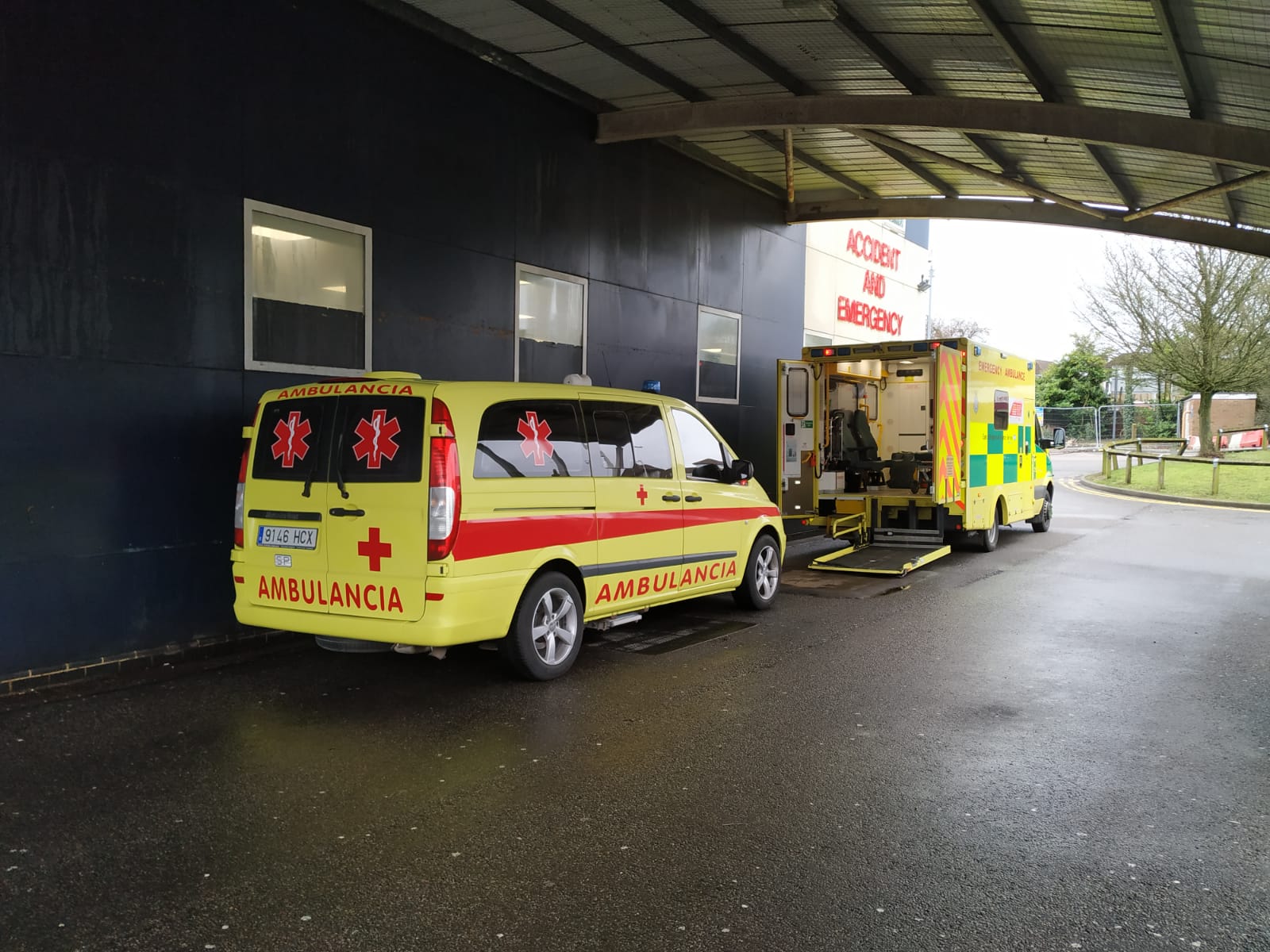 Luton and Dunstable University Hospital NHS, UK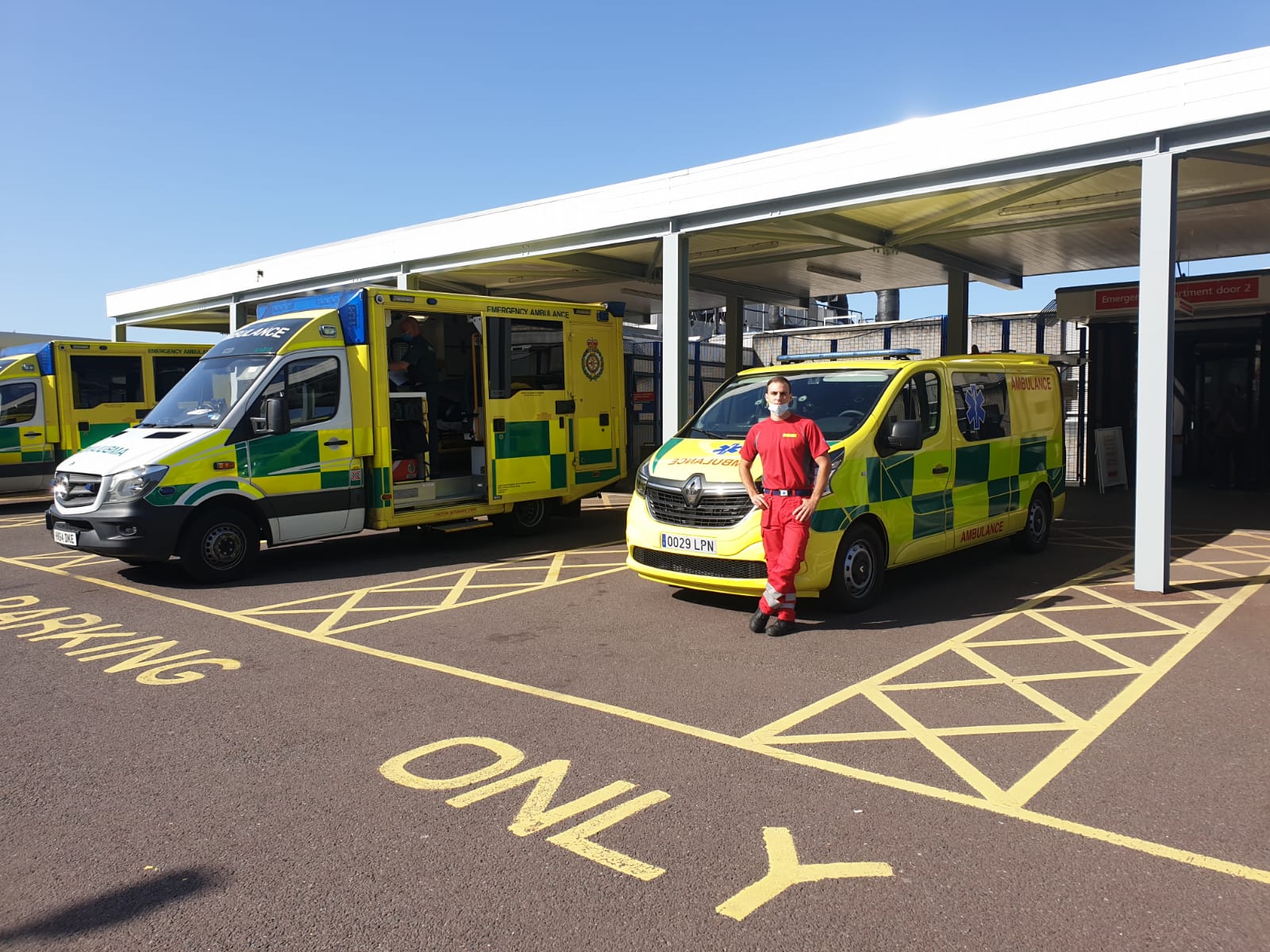 Another completed transport in the UK.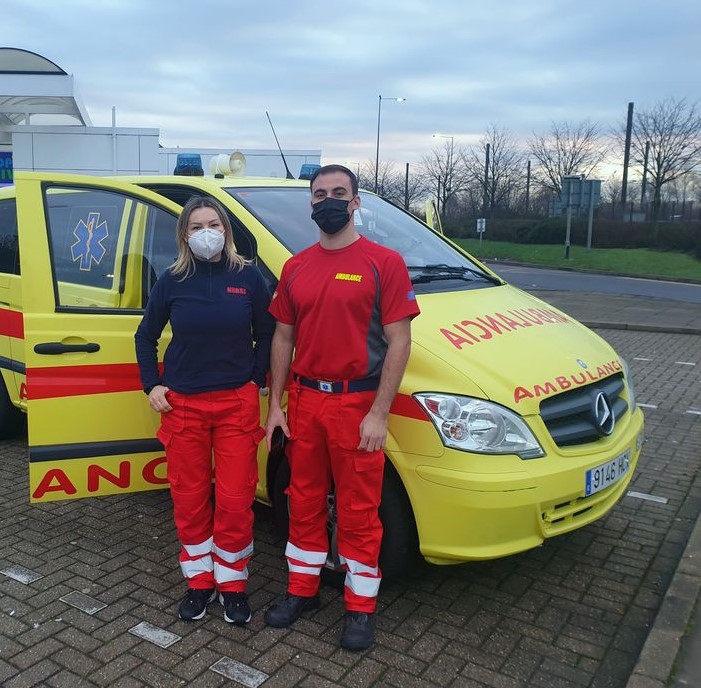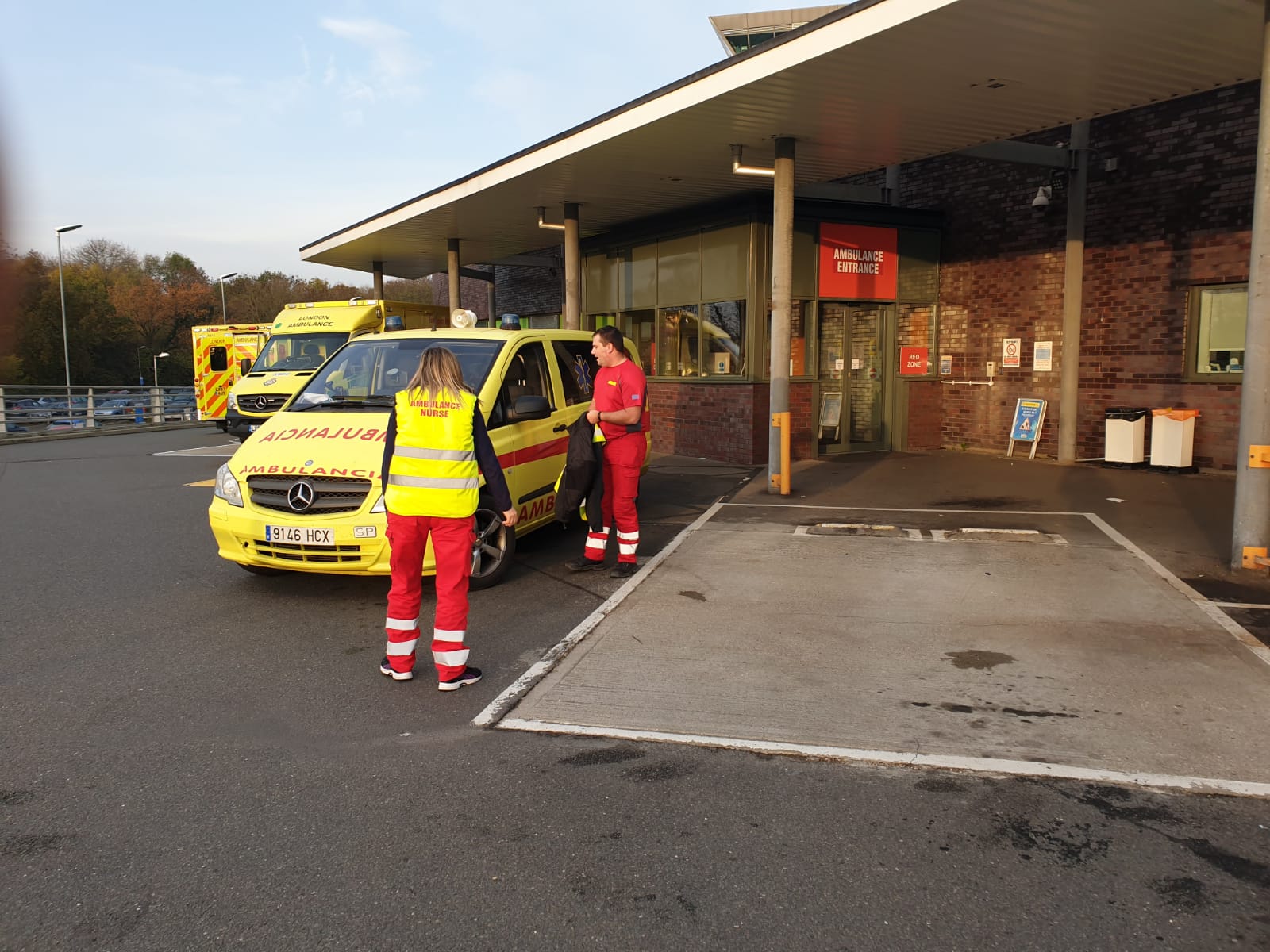 Another completed transport in the UK.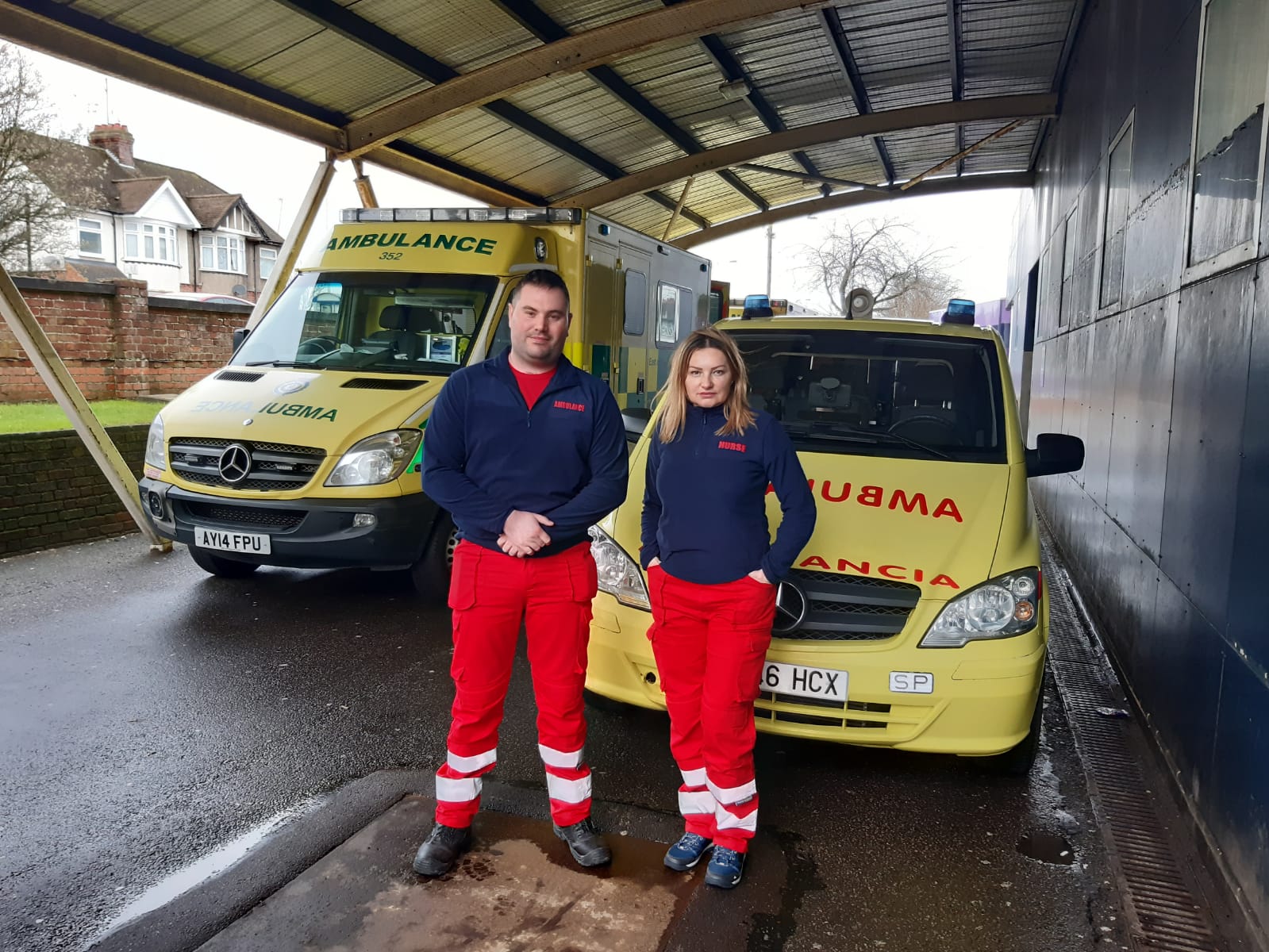 Another completed transport in the UK.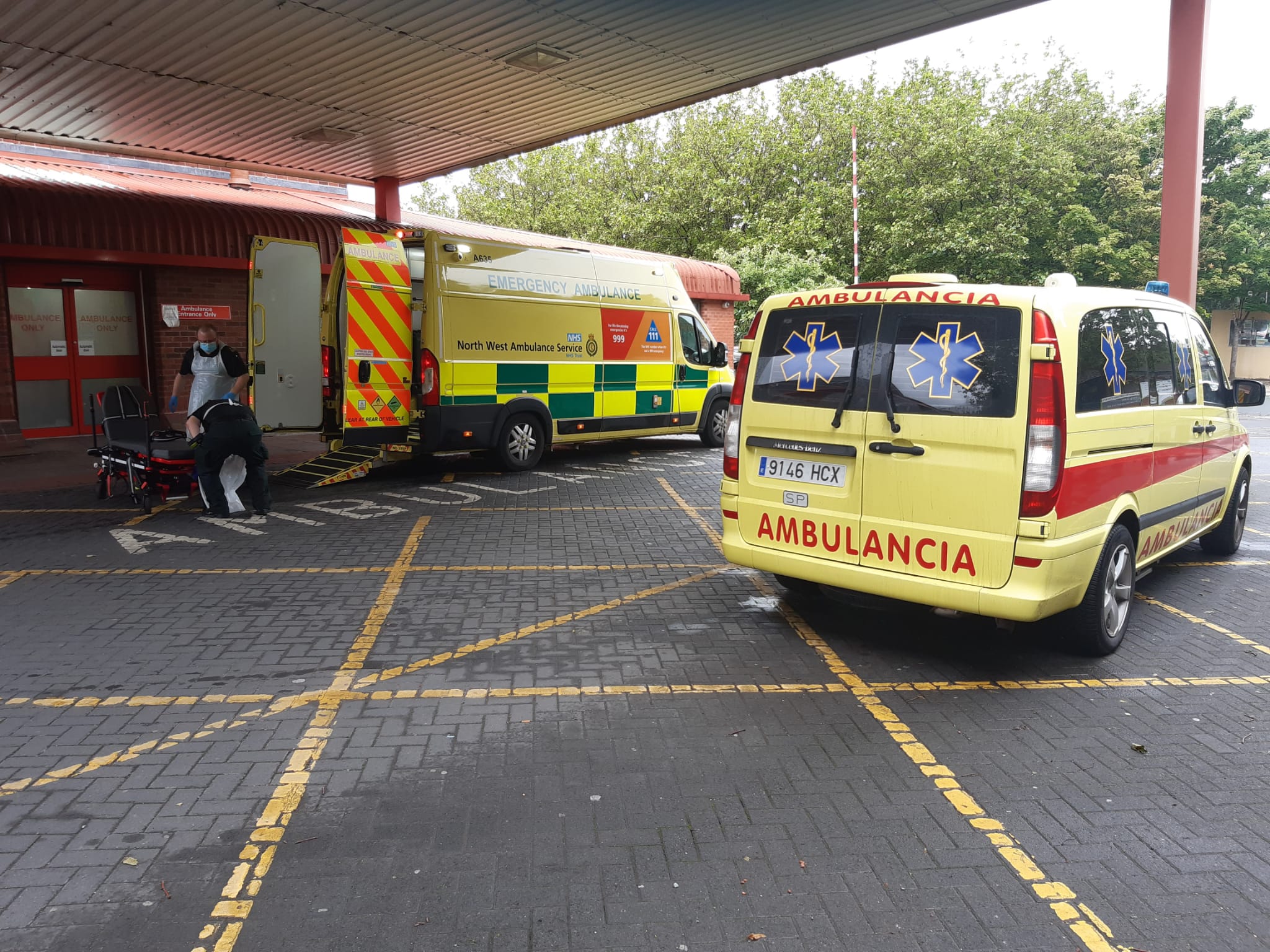 Another completed transport in the UK.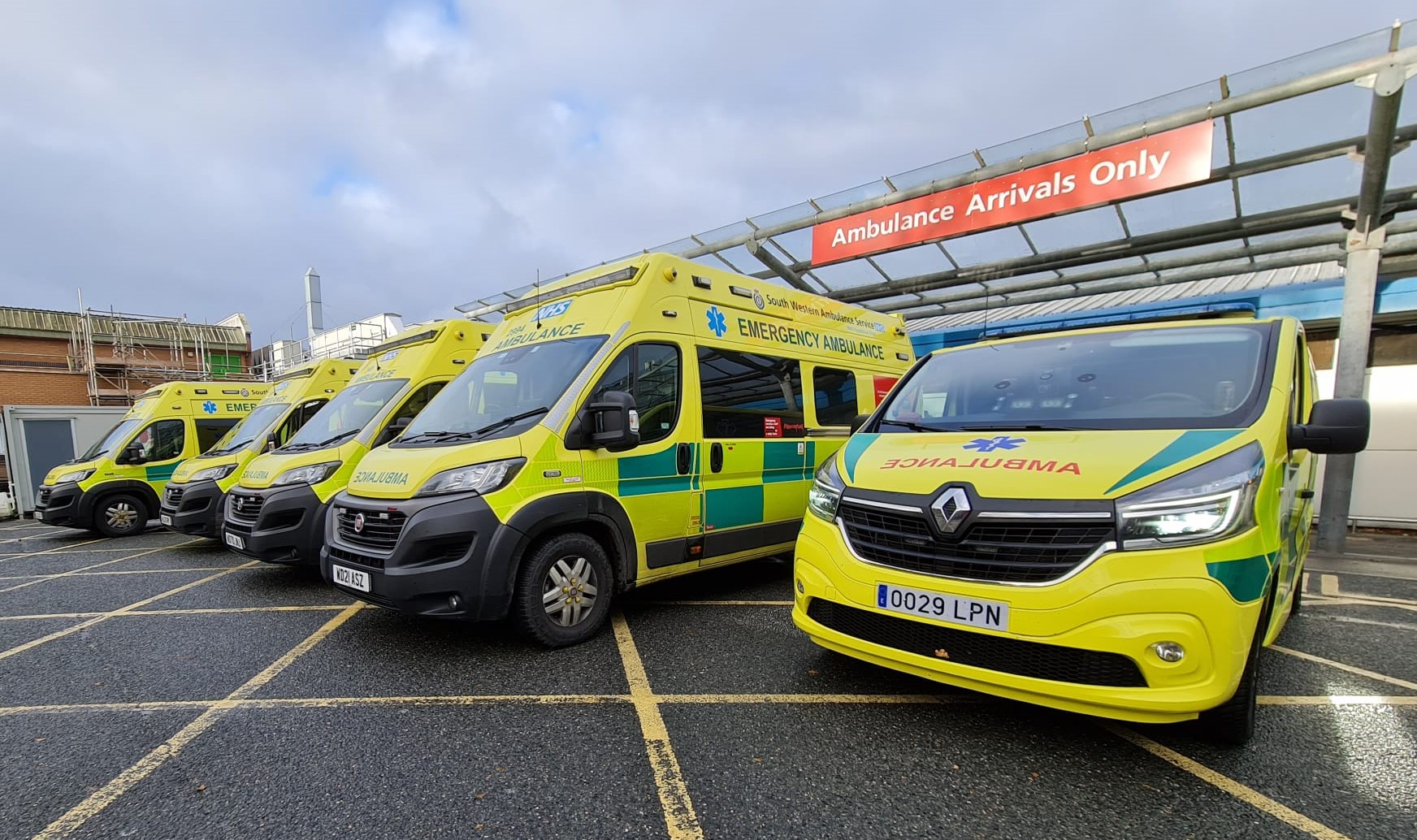 Torbay Hospital UK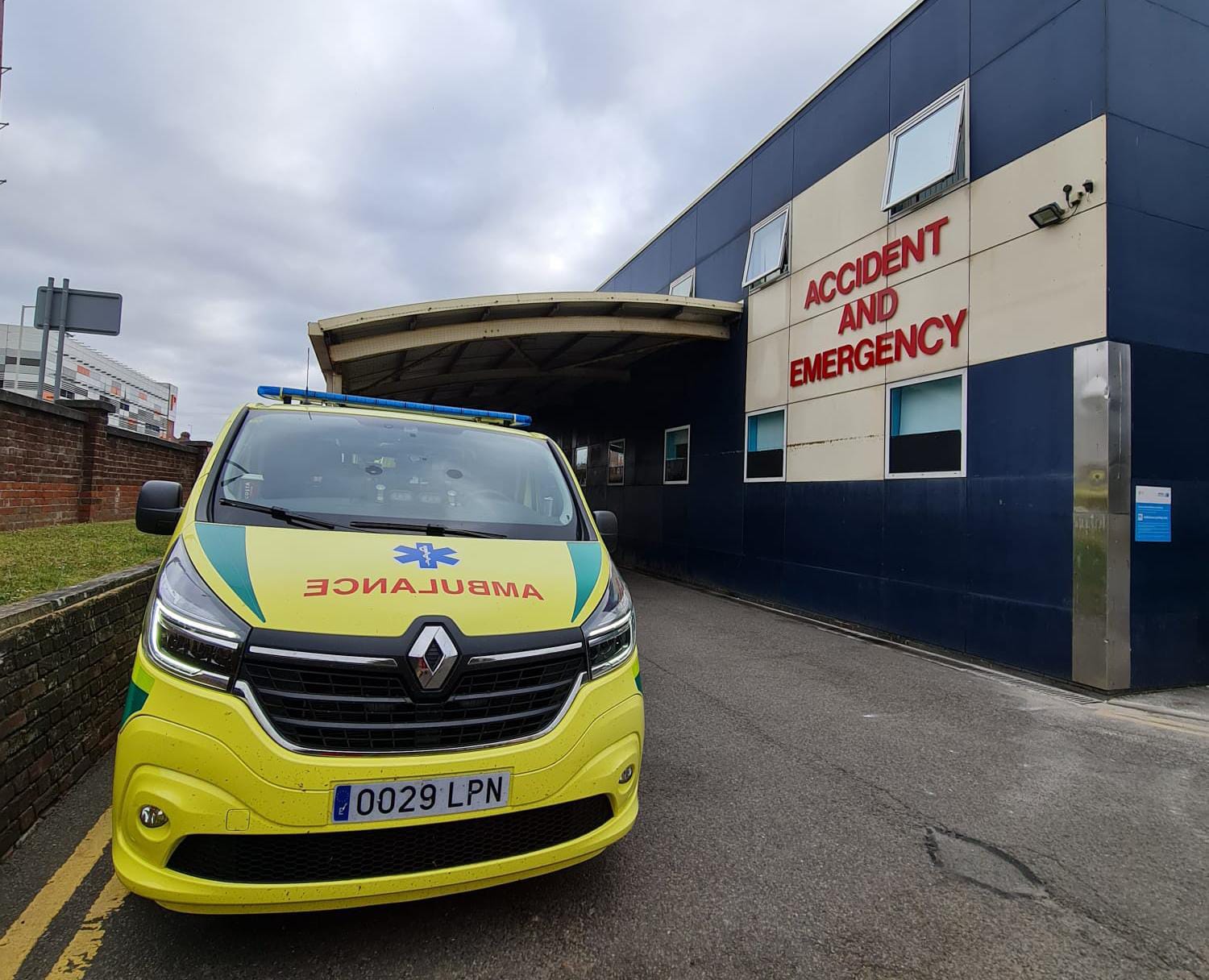 Luton Hospital UK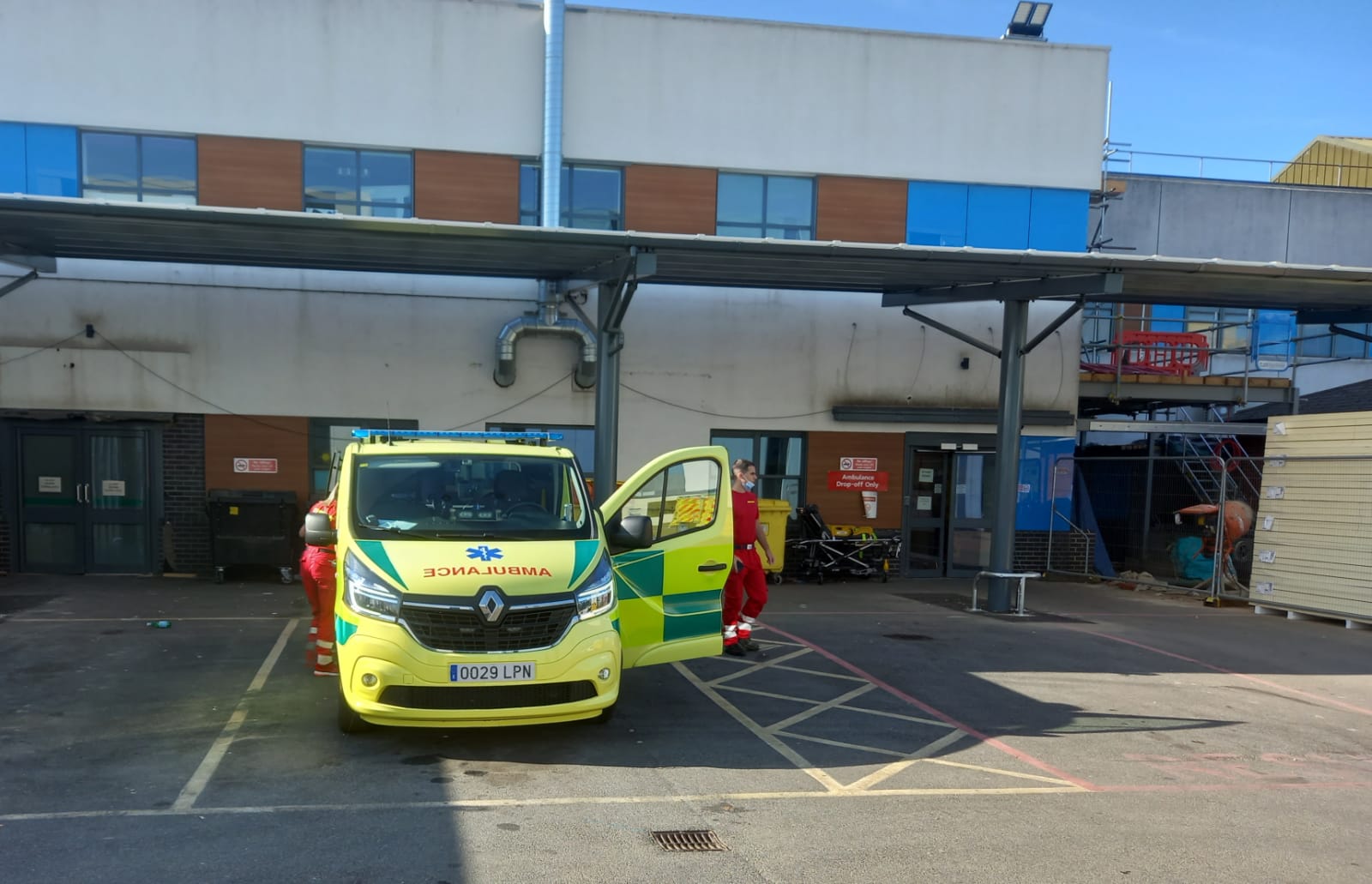 Colchester Hospital UK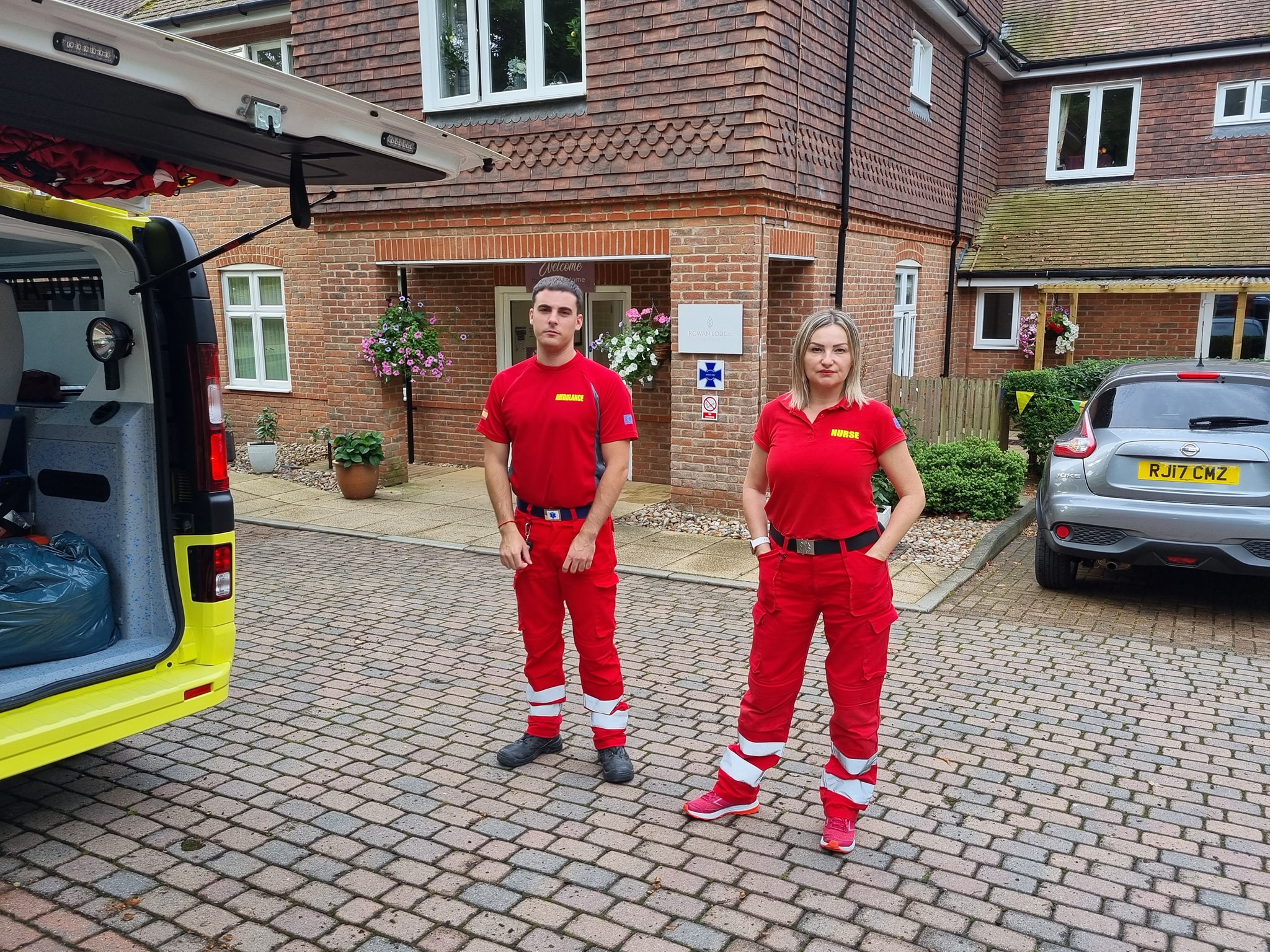 Nursing home in Cook, UK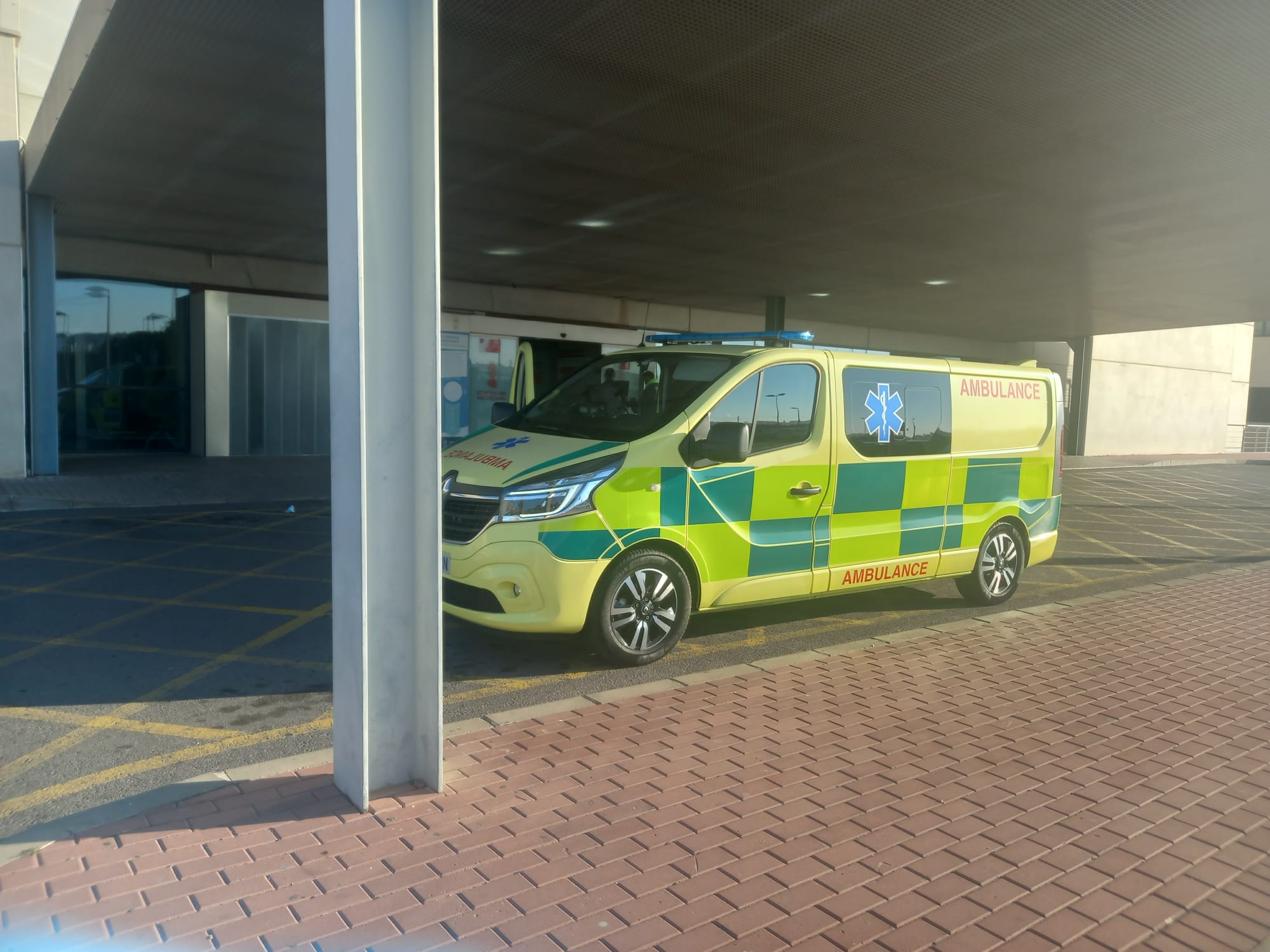 The emergency department at Torrevieja Hospital,
Spain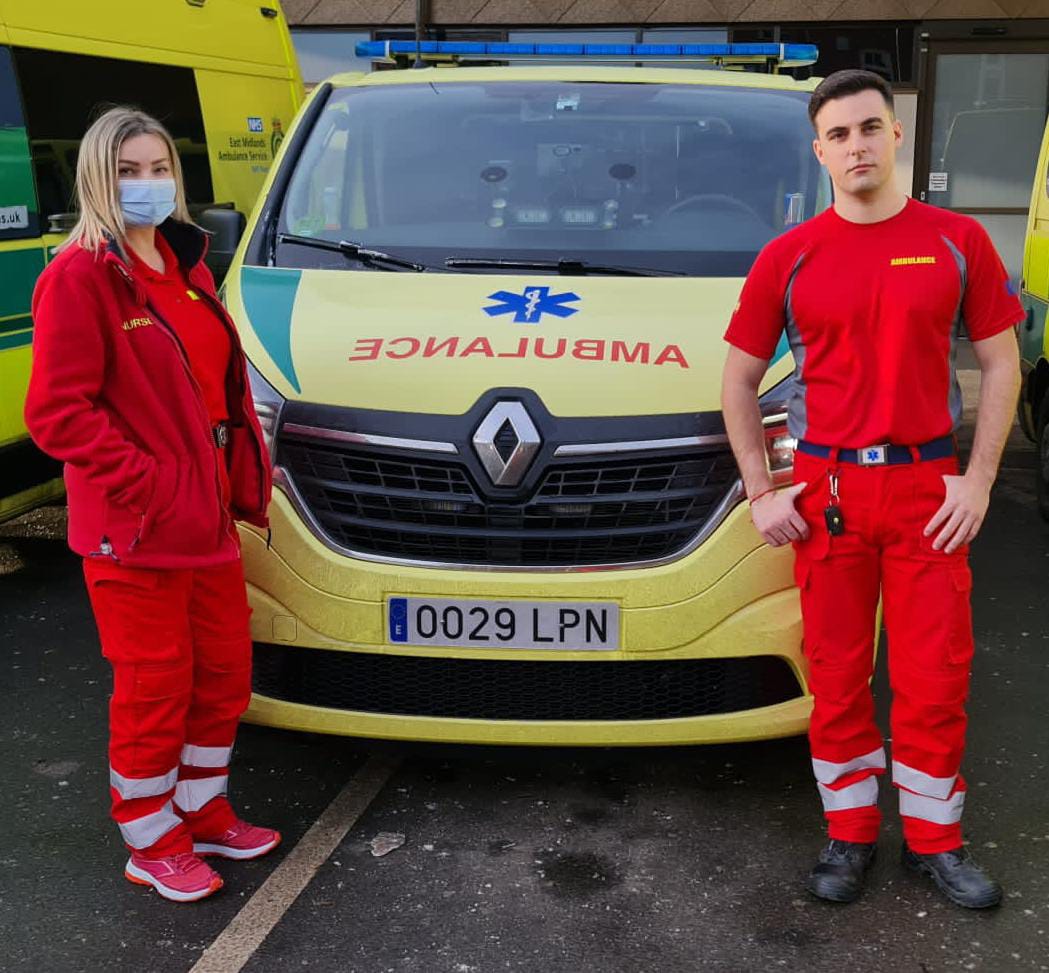 Leicester Royal Infirmary
UK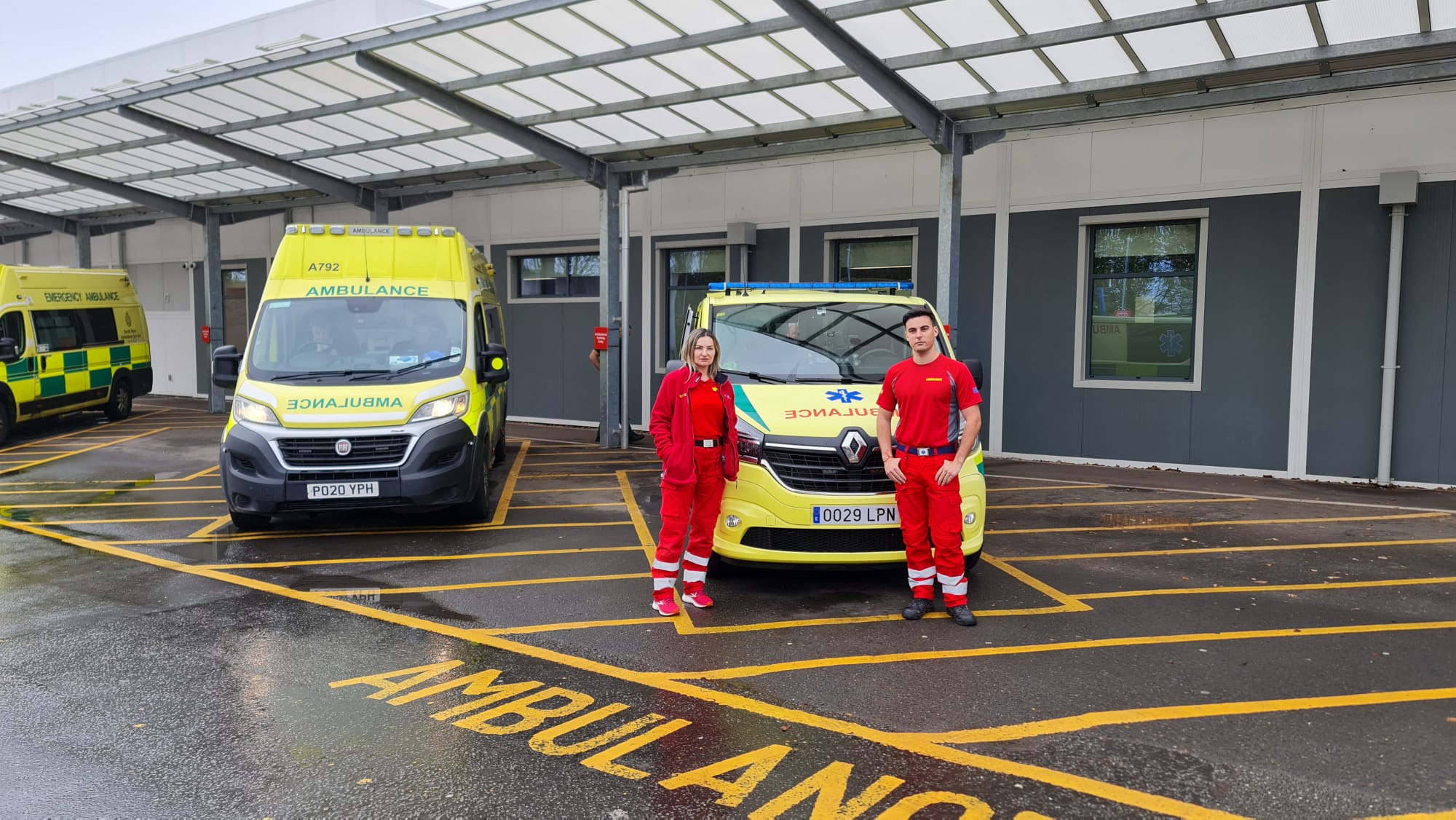 Leighton Hospital, Crewe UK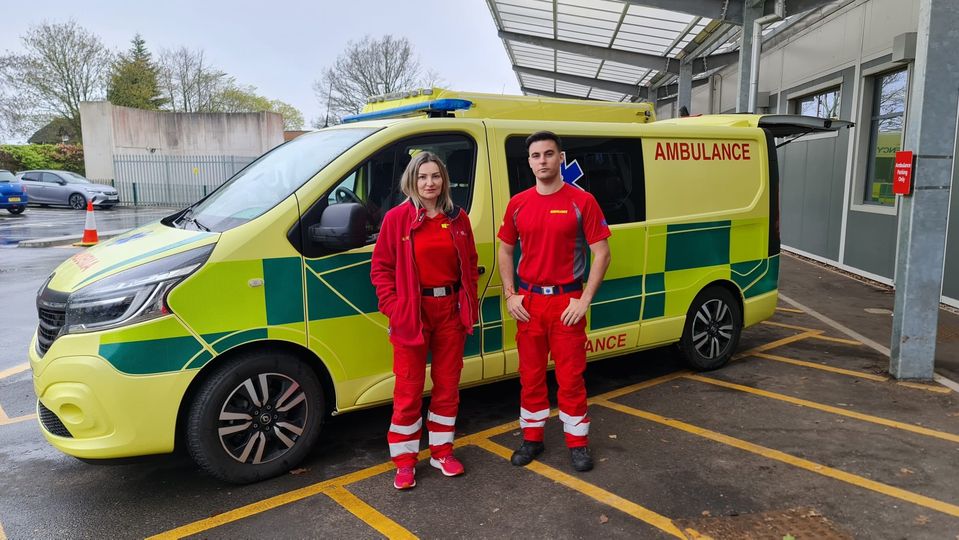 Leighton Hospital, Crewe UK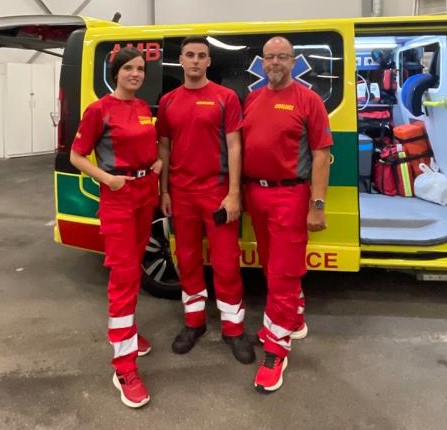 ICU Nurse Maria
Welcome to our team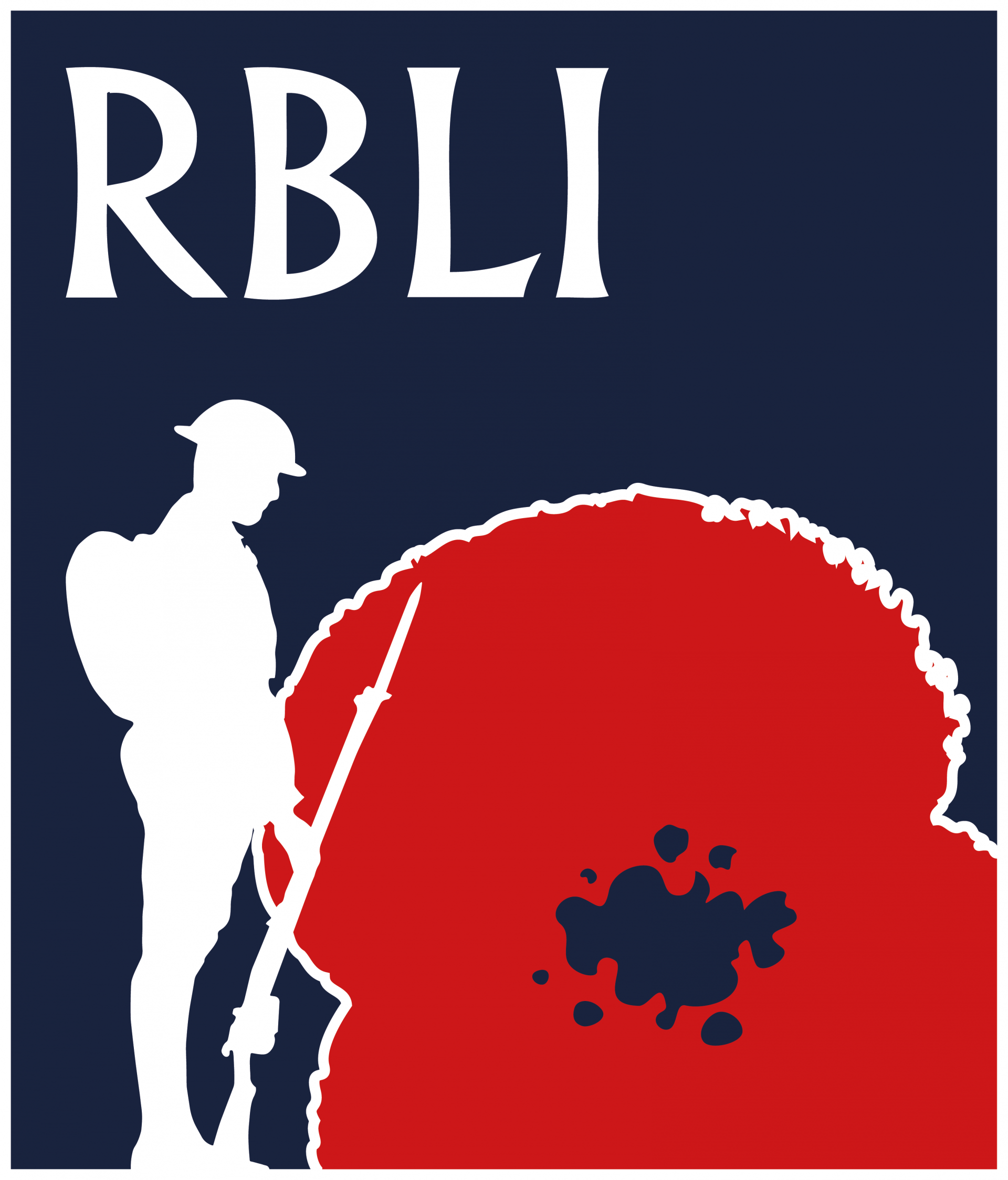 We are proud to have helped a British Veteran home to Liverpool.
Short Description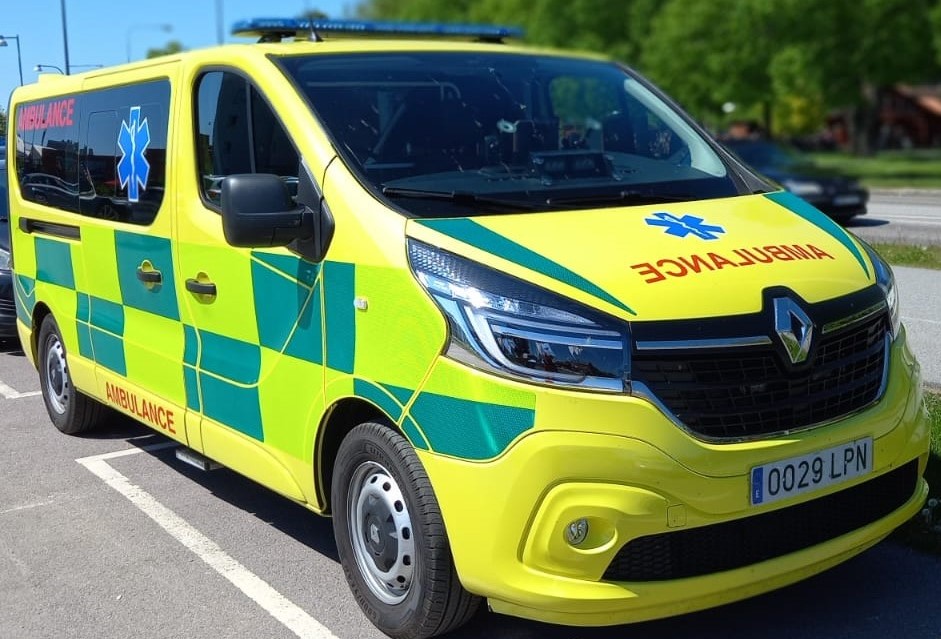 Here is our new ambulance. Renault Trafic 205 H turbo diesel. With the latest generation of Renault engines. specially designed for long transports. We have designed it ourselves based on what we need. The ambulance has AC for the Spanish heat and 2 heating systems, for extreme cold.

Come to us on 21 / 5-2021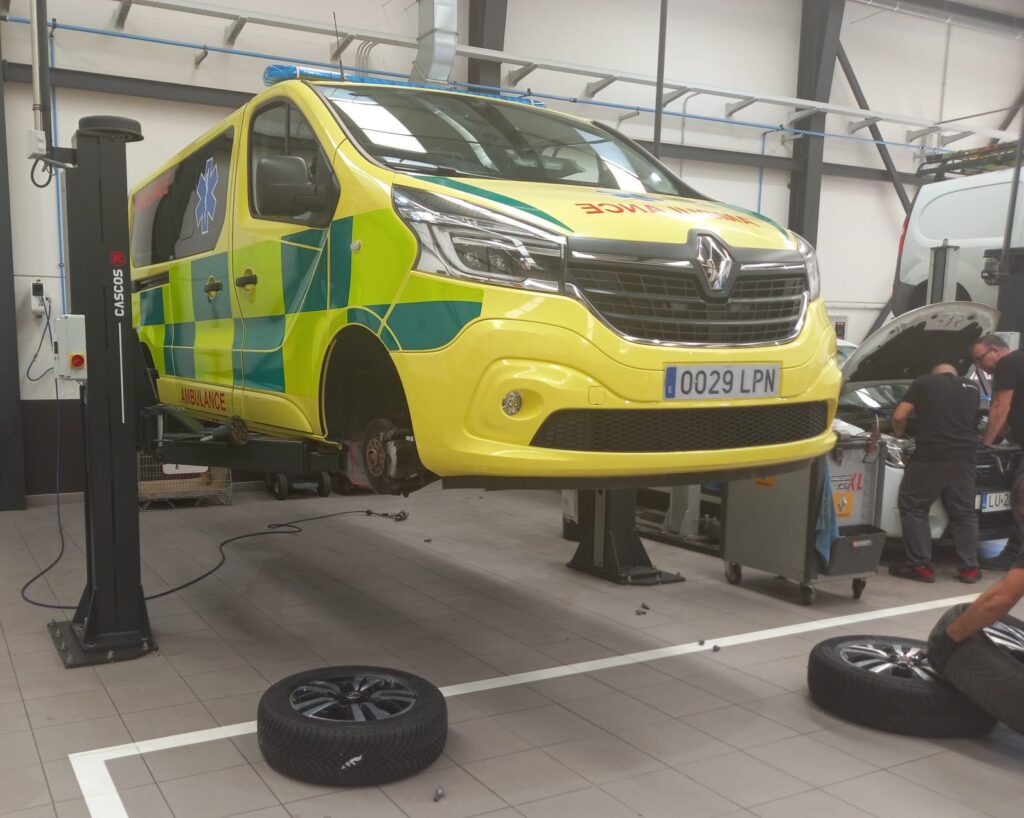 Here it is a tire change, before the tires have been worn according to the tire manufacturer.
MICHELIN CROSSCLIMATE 2 Are made for snowy conditions.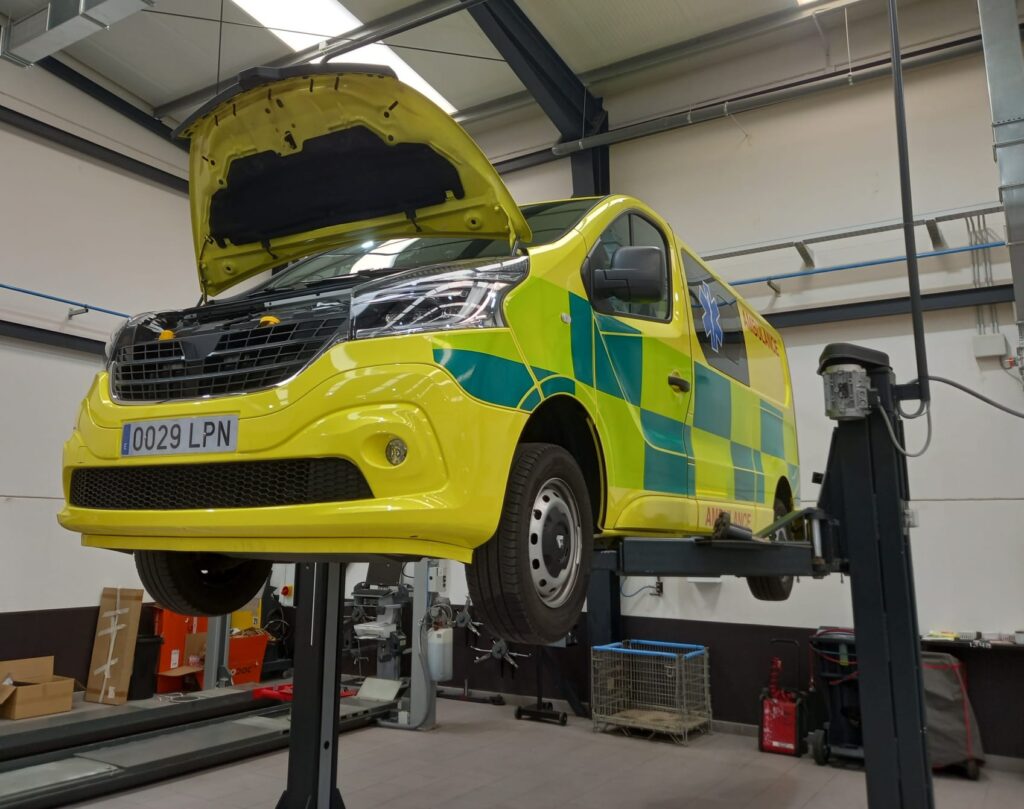 Our ambulances goes to the Renault workshop every 7,000 km for oil and oil filter change (according to Renault, it should be changed every 30,000 km) but we do it at 7,000 km.
At the same time, the car is inspected by the same mechanic at the Renault workshop in Torrevieja.
The mechanic know our ambulance and see and feel if there is something that needs to be replaced.
Even a small item must be replaced.
All for the safety of all of us in the ambulance.
The price include:
Journey from the patient's home address or Hospital In Spain to UK
A relative who accompanies.
We provide normal food and to some extent we provide special diet for the patient.
Personal Care Products.
Oxygen for the patient.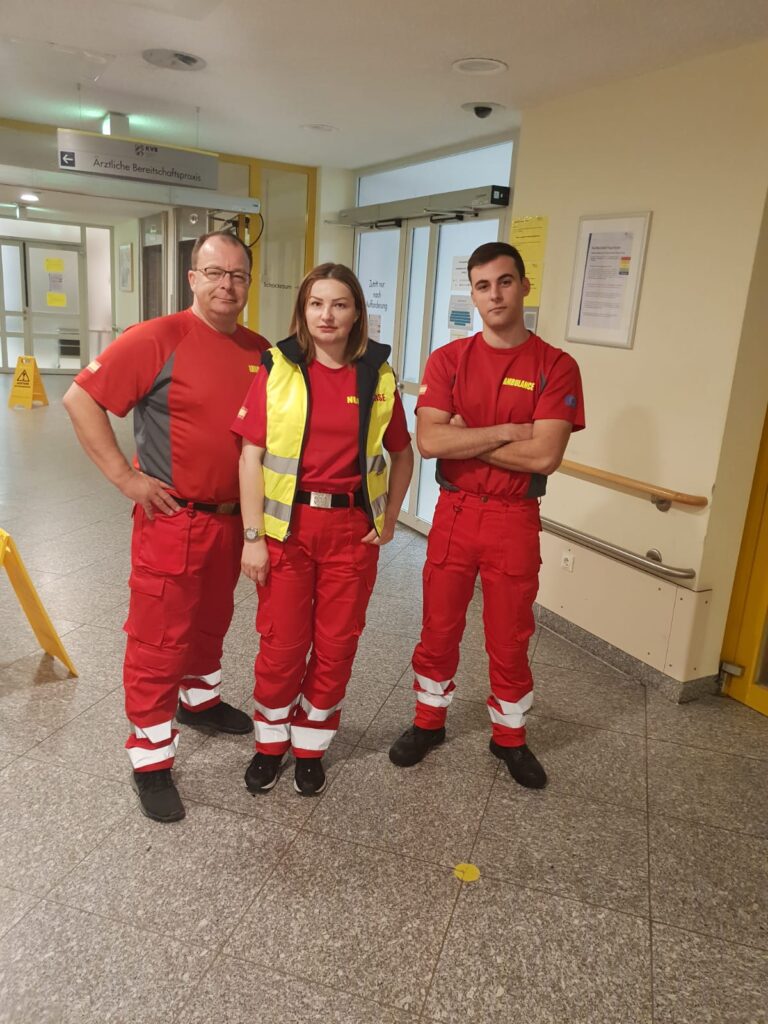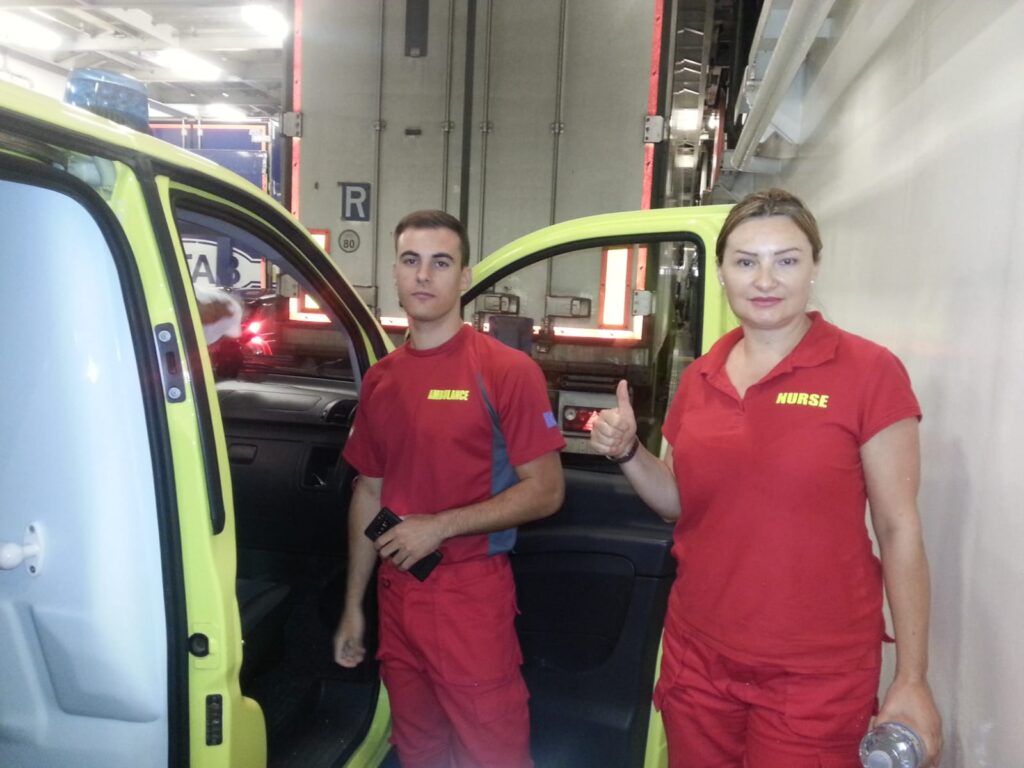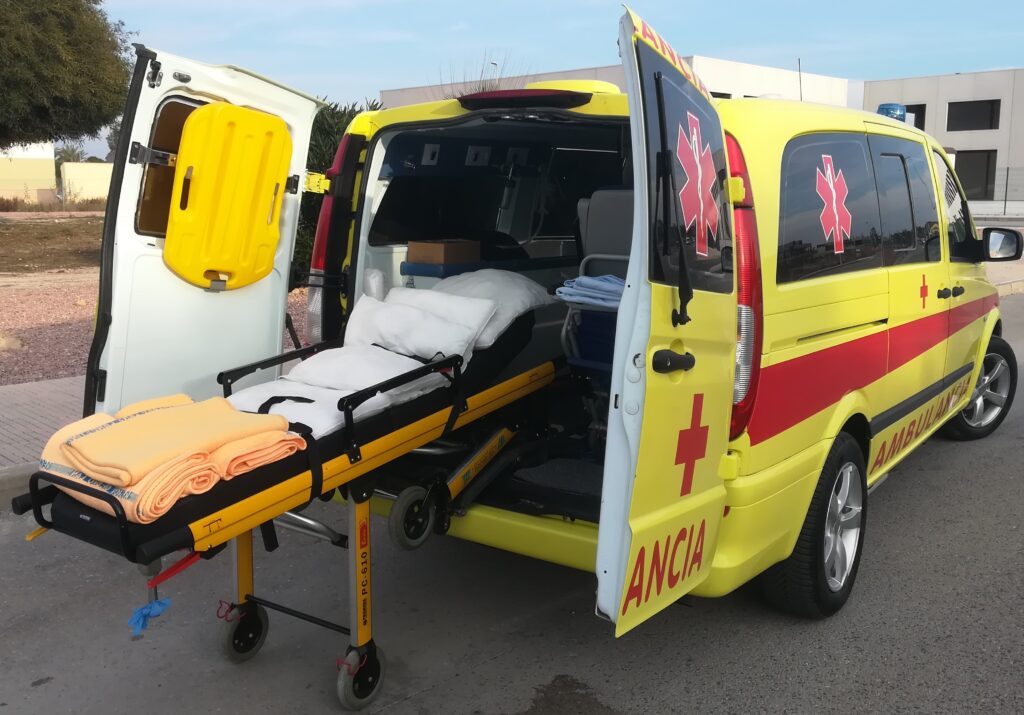 Our new investment provides the patient with oxygen for extremely long journeys without limit.
EverFlo Philips Respironics Oxygen Concentrator that can take up to 5 liters per minute in extreme cases.
Patients Over 5 L per minute, we can not take.
We can take patients who need a lot of oxygen without any problems at all for us. It runs at 230 volts.
which we have in the ambulance

The Two Oxygen Tubes, We Always have with us, will always be there as a reserve. Which has over 4000 l comprimated oxygen.
If the patient needs pure Oxygen, it will be extra per started tube.
This is only if the hospital's doctor writes in the journal that the patient must have pure Oxygen during transport.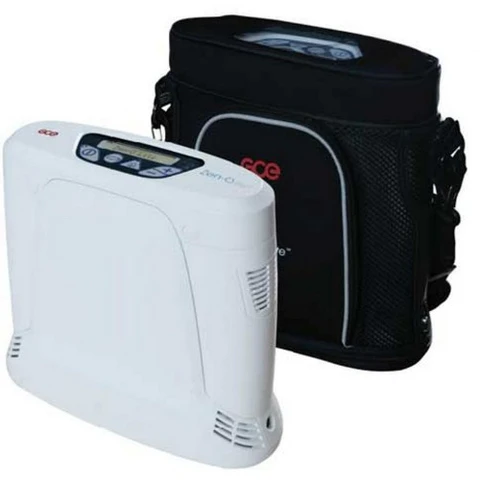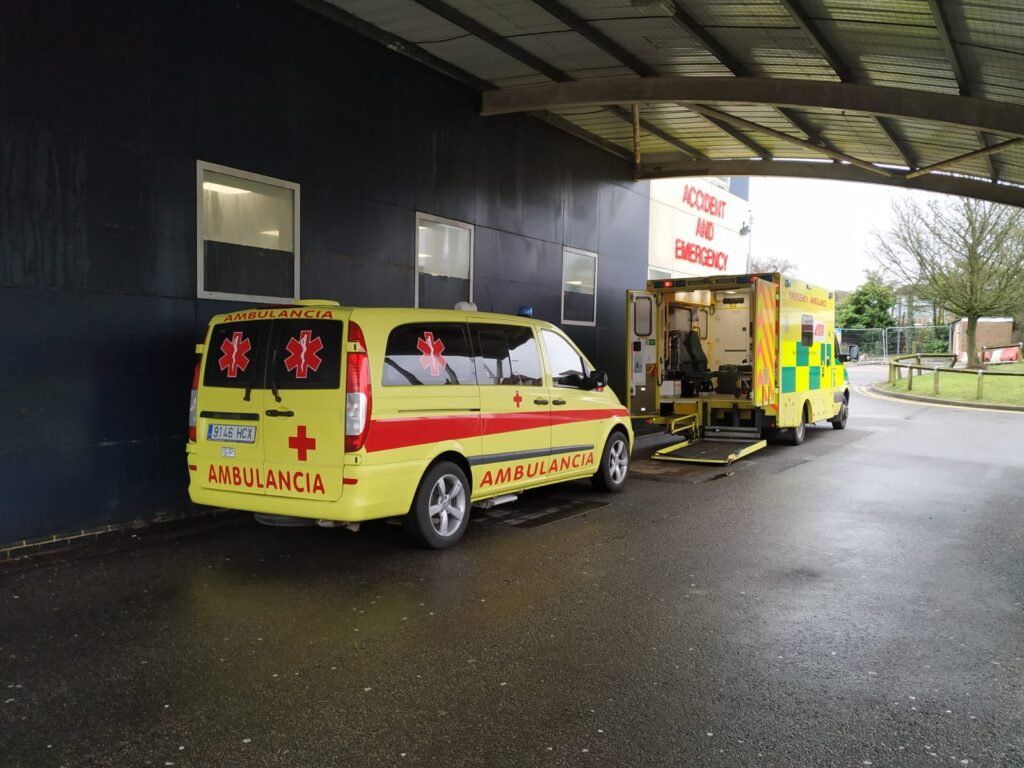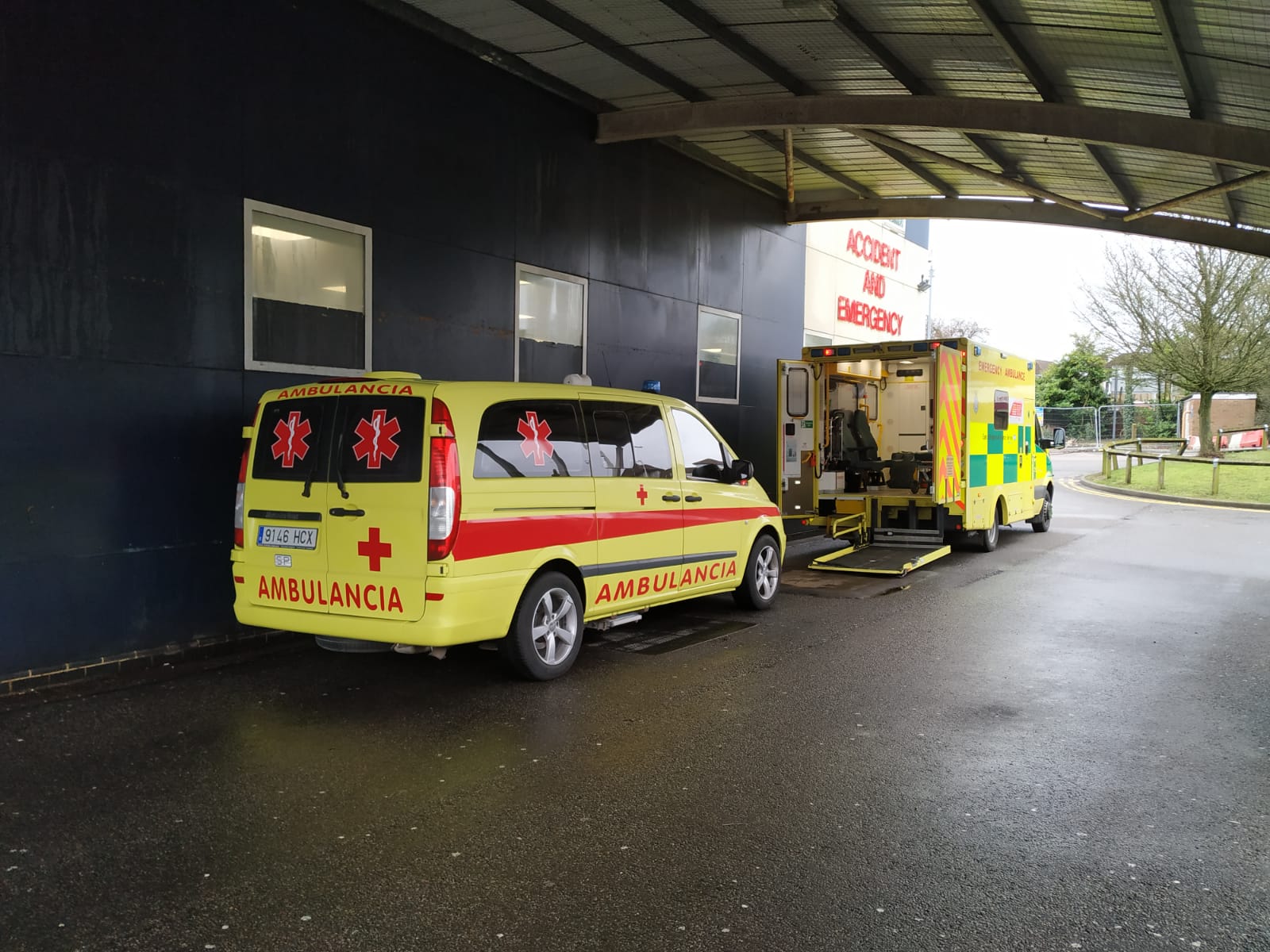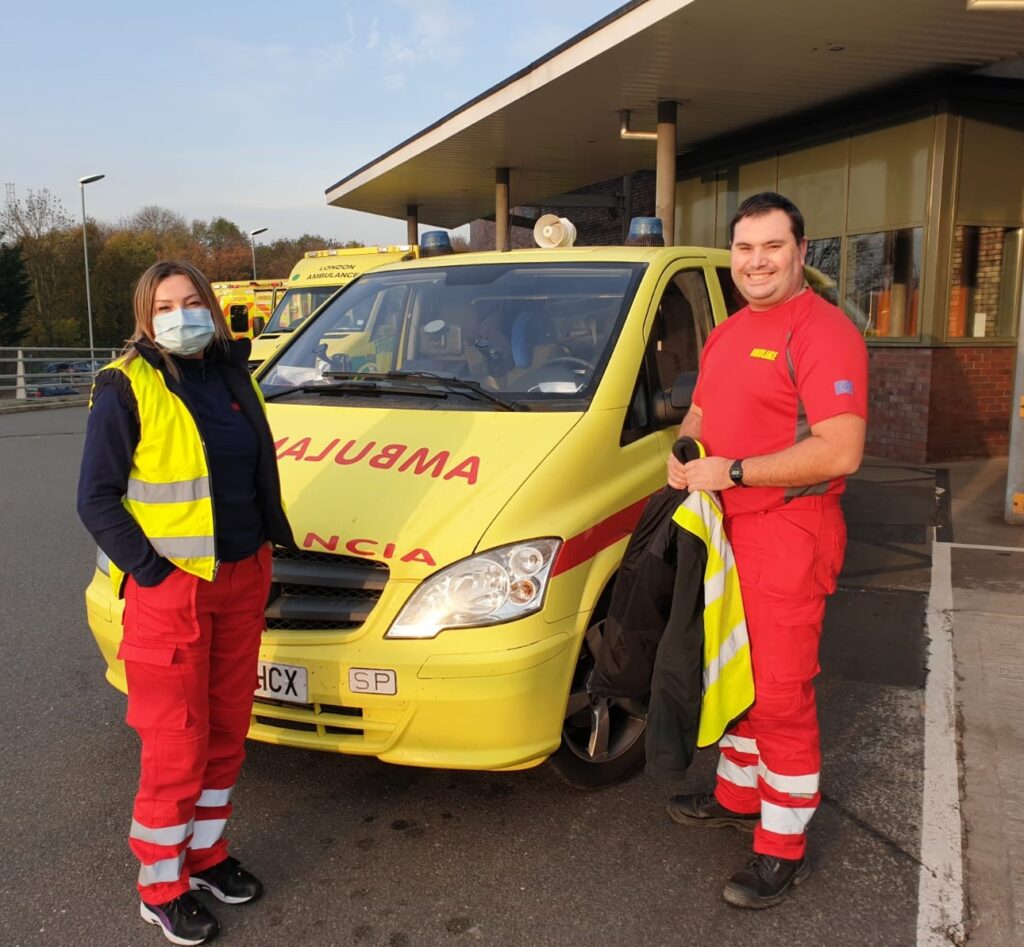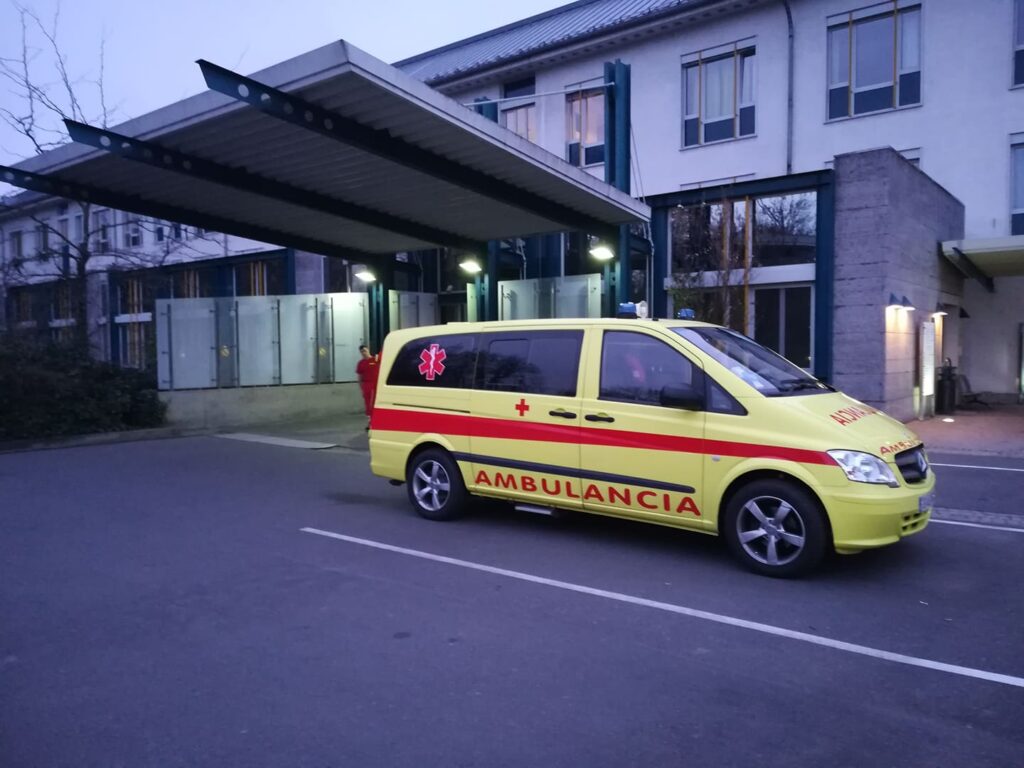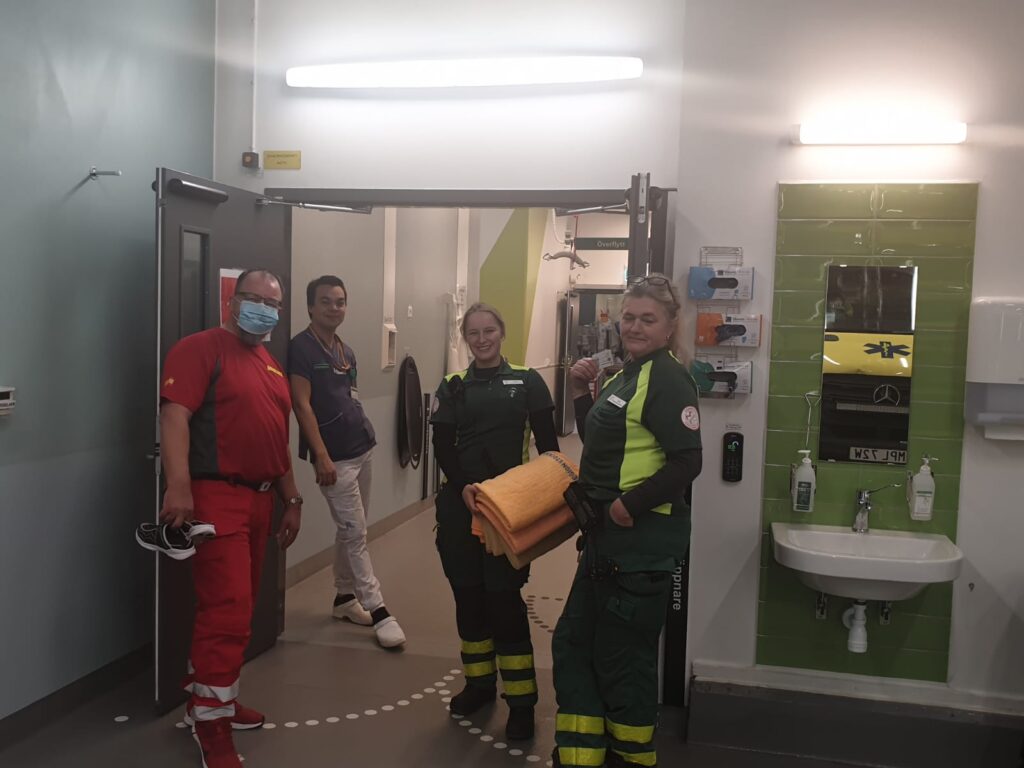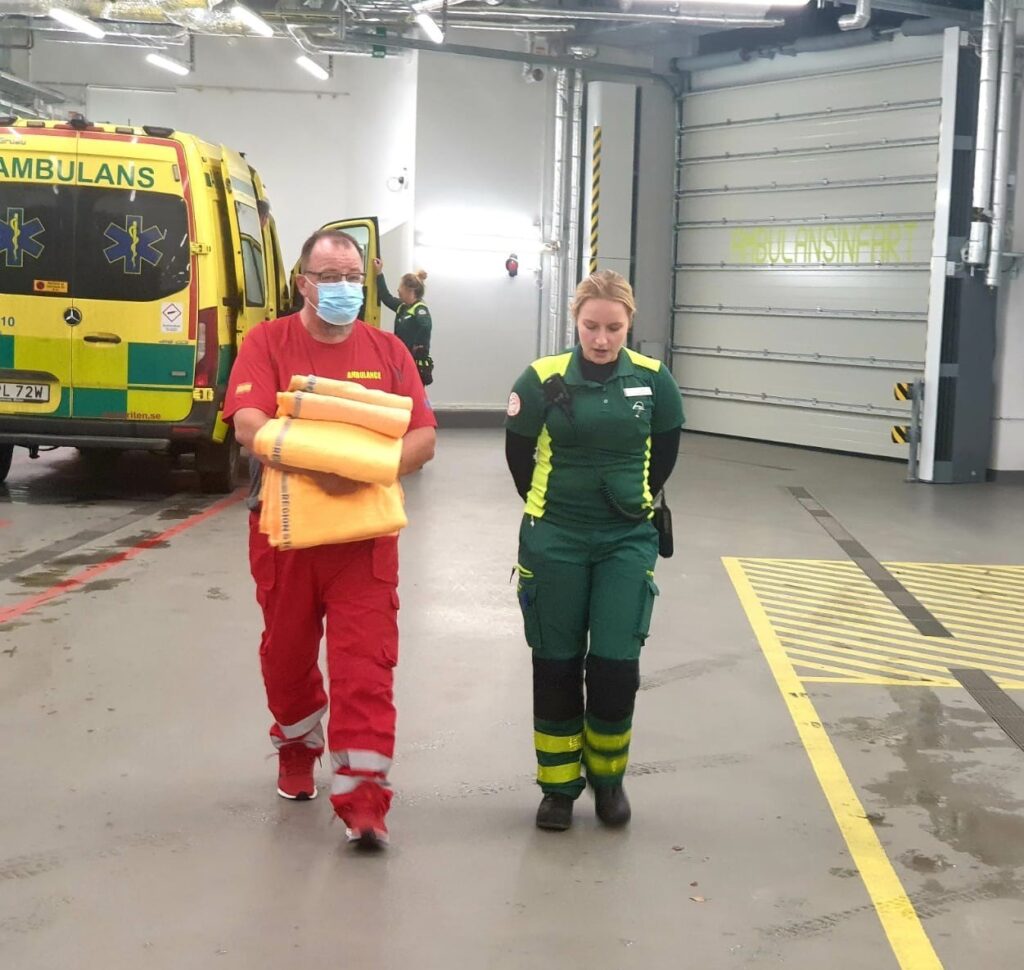 How does it work When you order an ambulance transport from us ?
You call, or write an e-mail or Whatsapp, and we agree on a time and place for a first meeting. At the patient's home or at the hospital. If the patient is in the hospital, we have a dialogue with the doctors before the ambulance transport back to the UK. To make the ambulance transport as safe as possible for the patient. It is the same nurse who has a dialogue with the hospital / nursing home in Spain that accompany the ambulance to the hospital / nursing home in the UK. Or to the address you want to go to in the UK.
This meeting is free of charge, whether you use our service or not.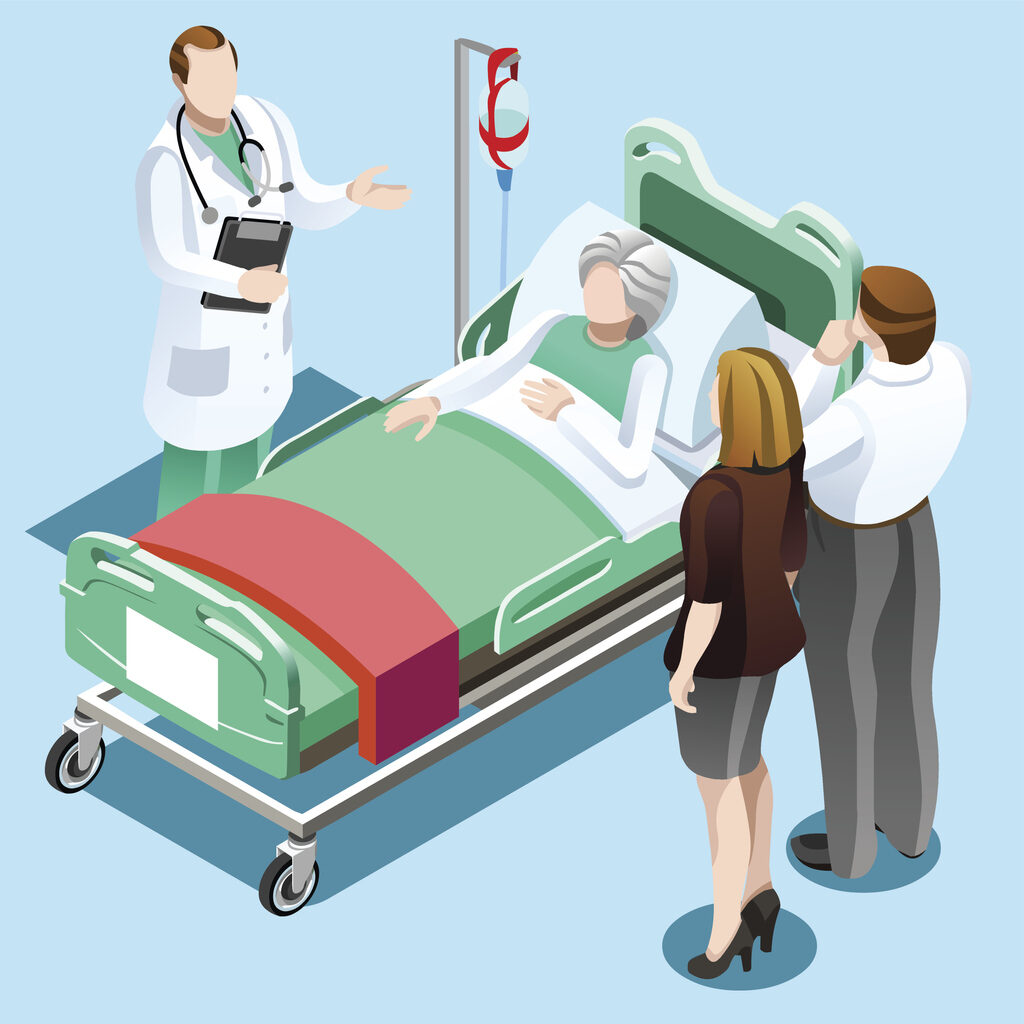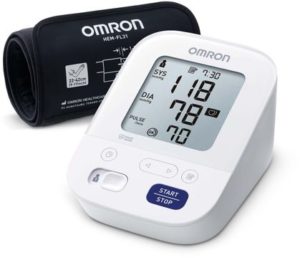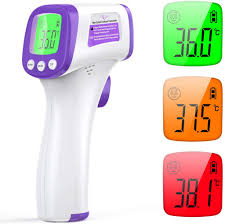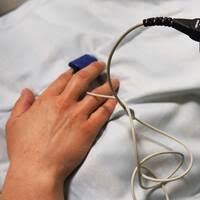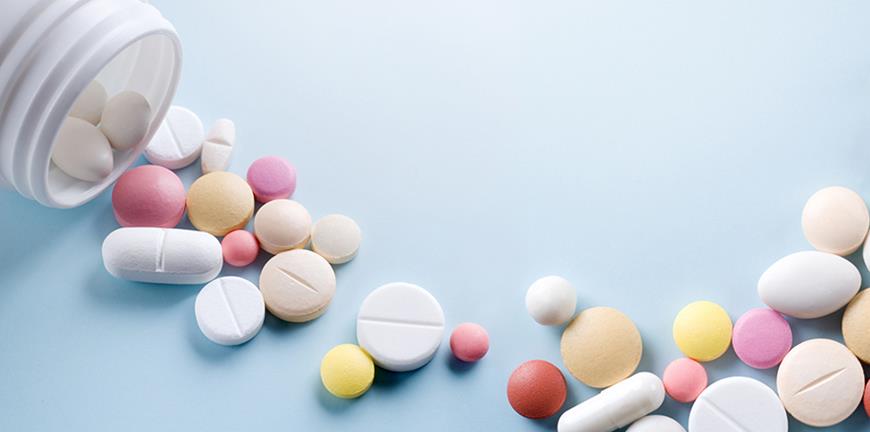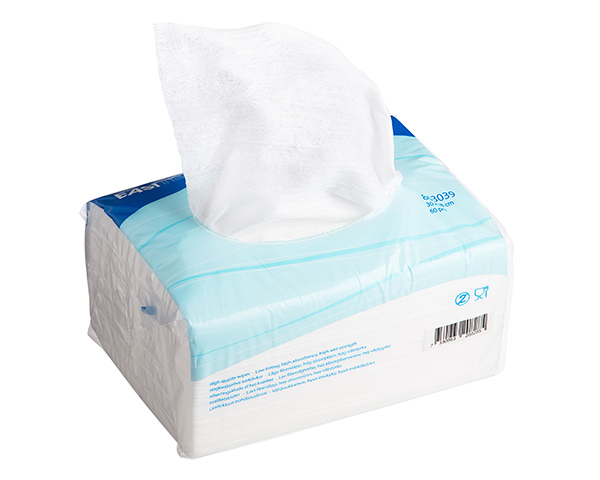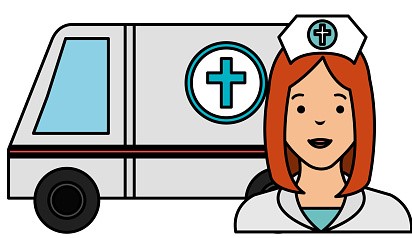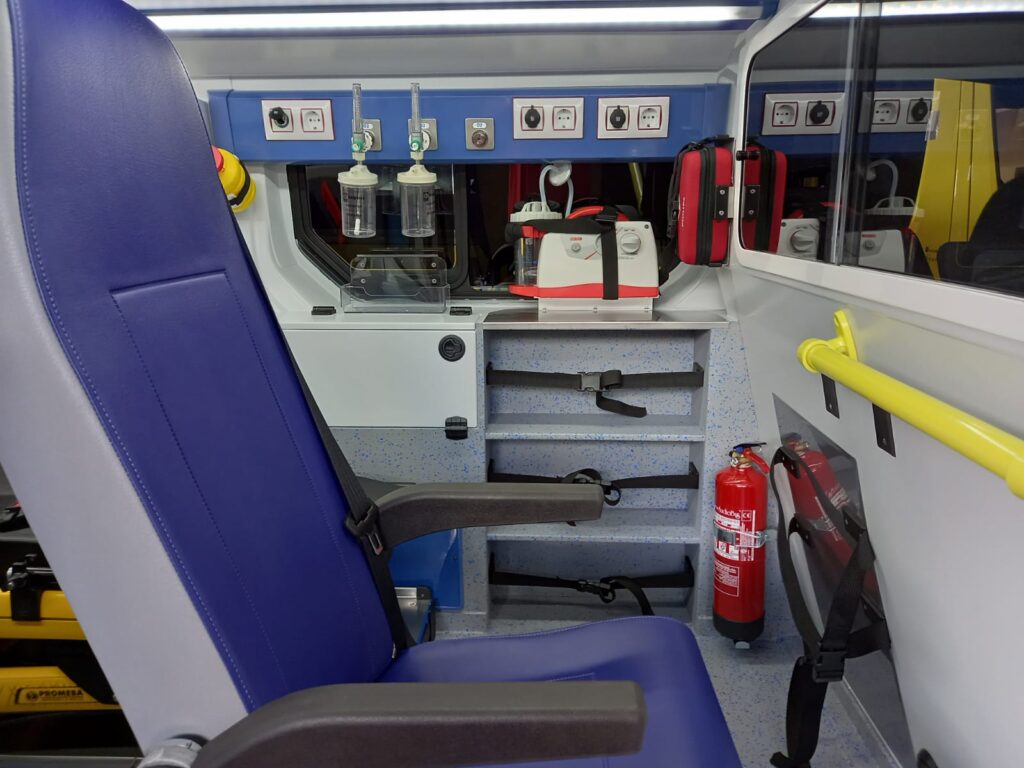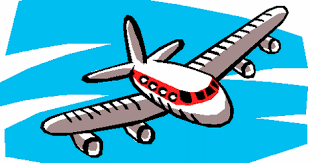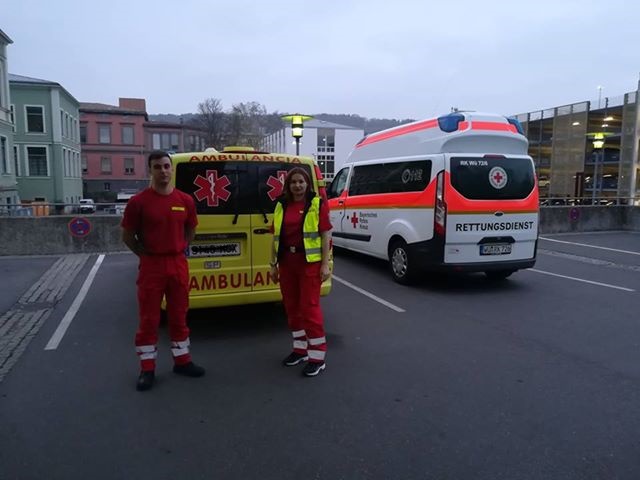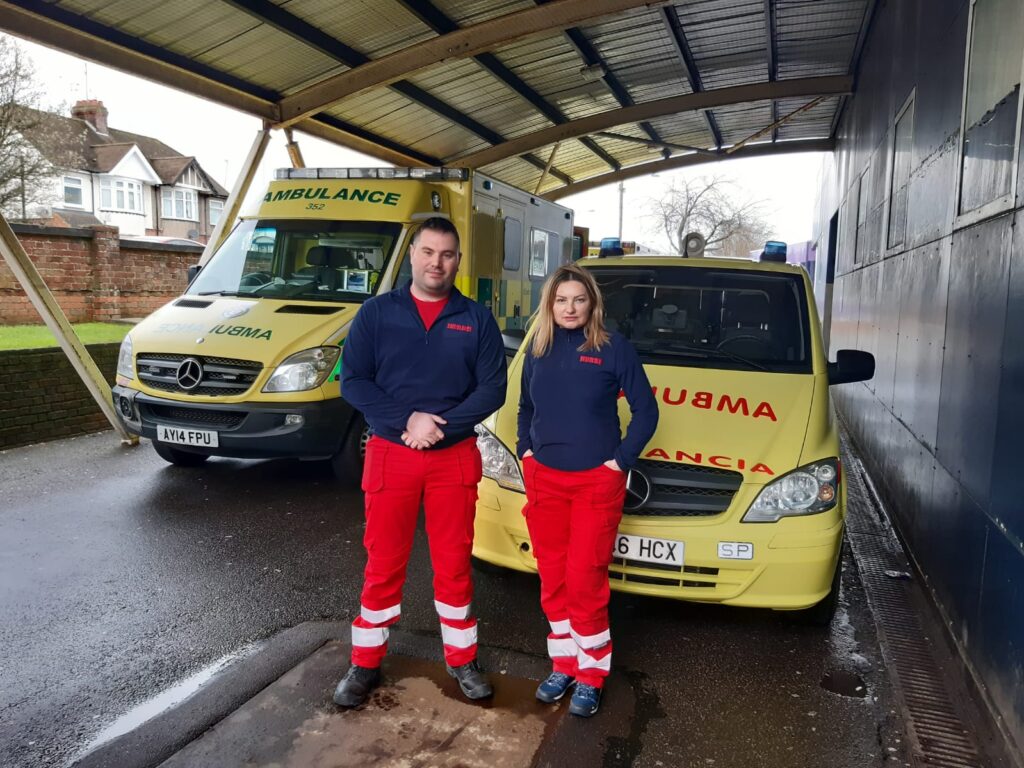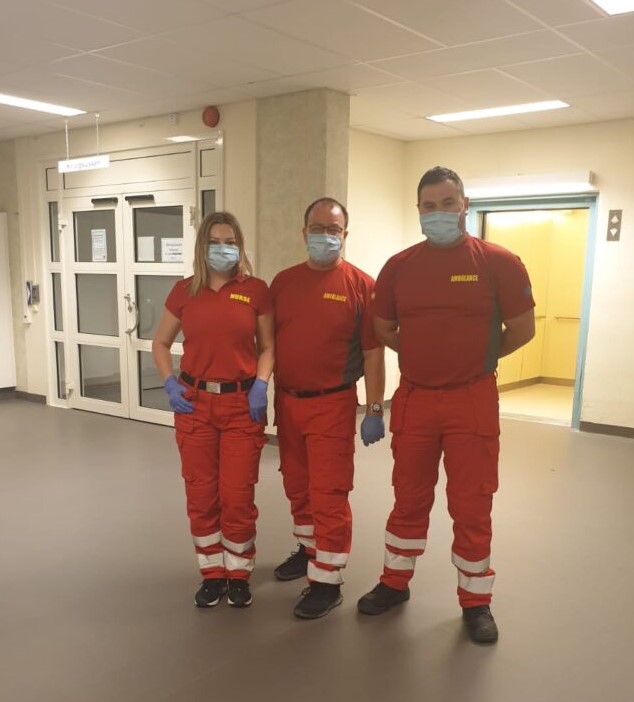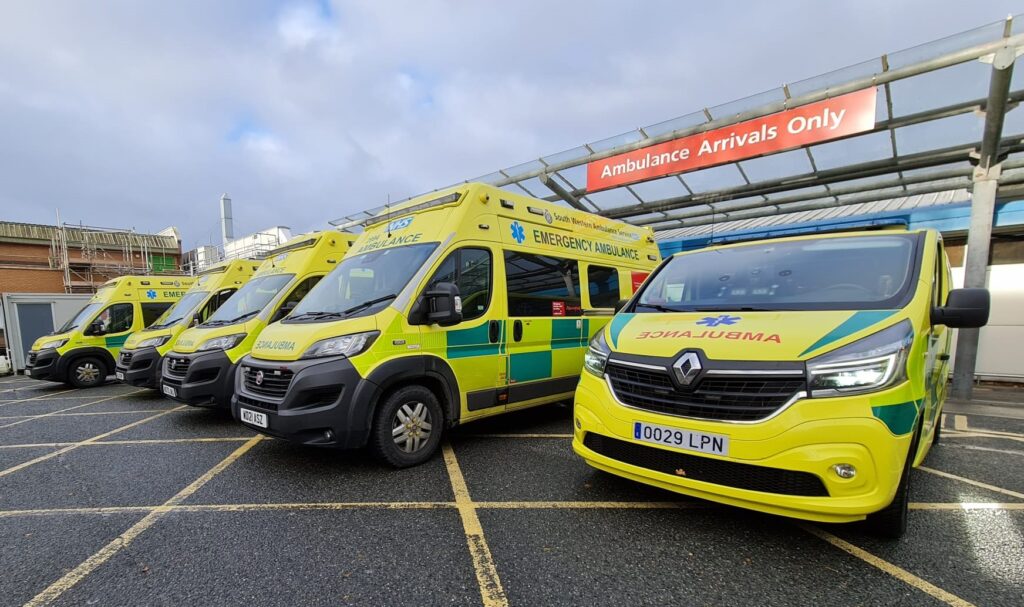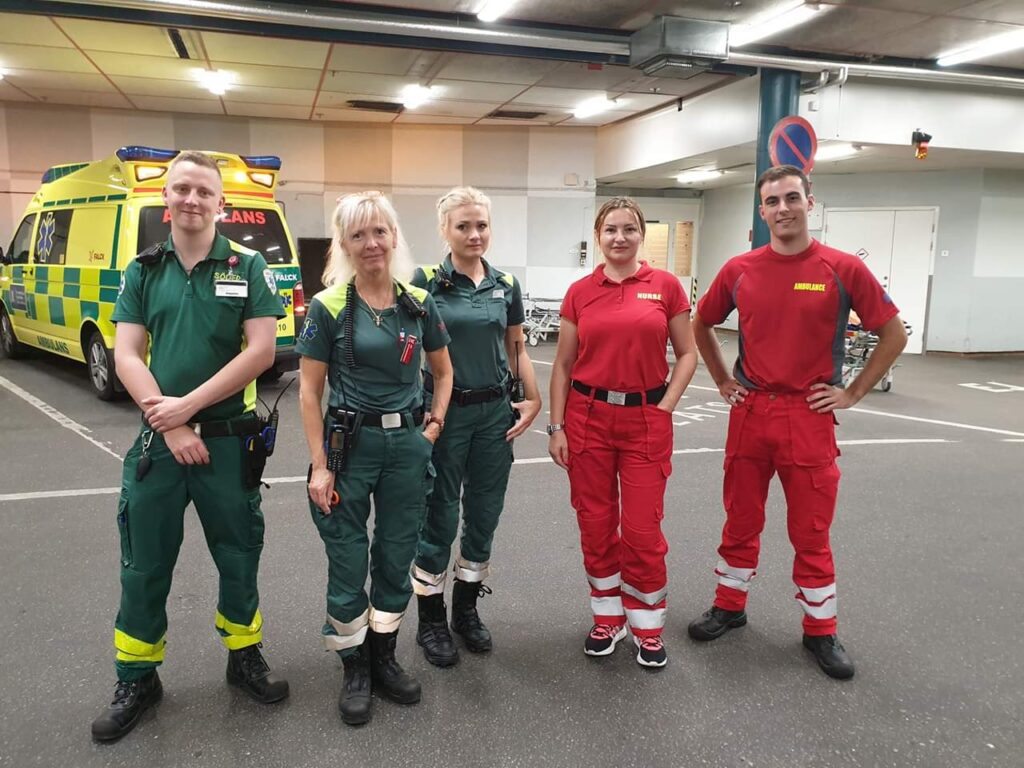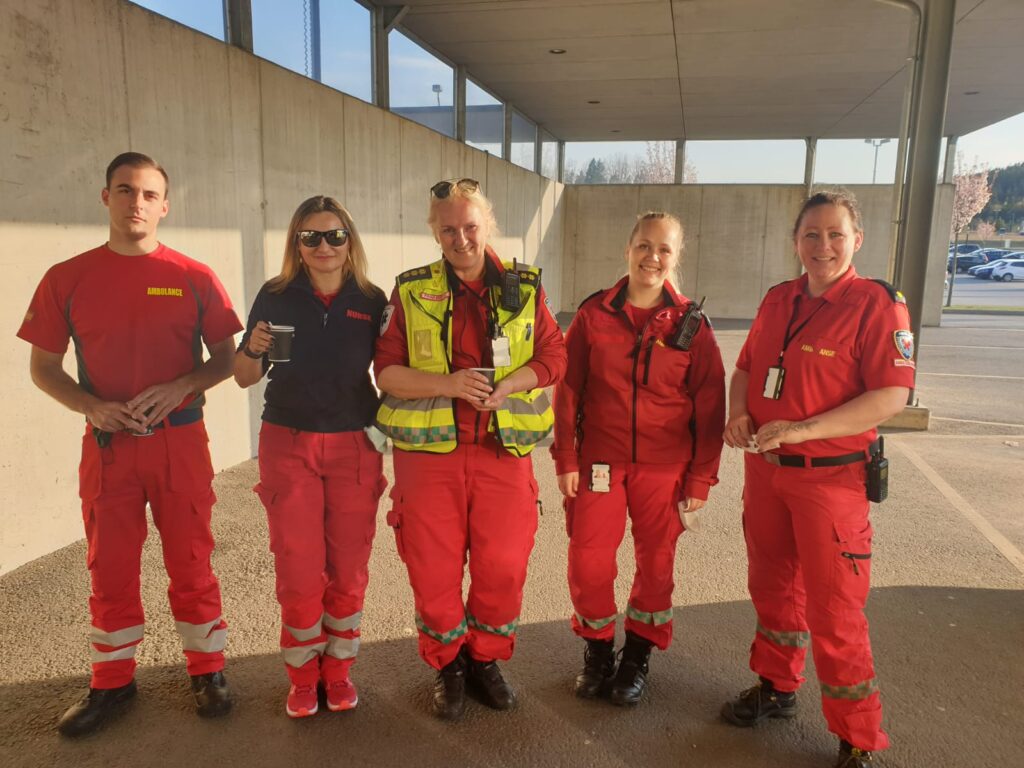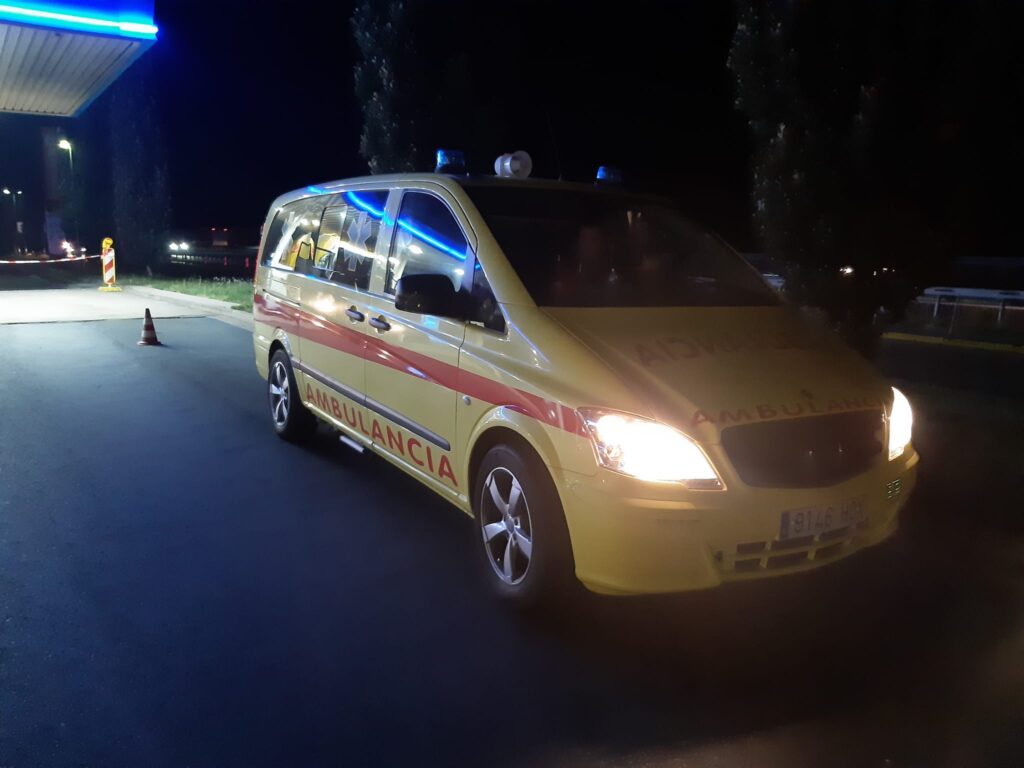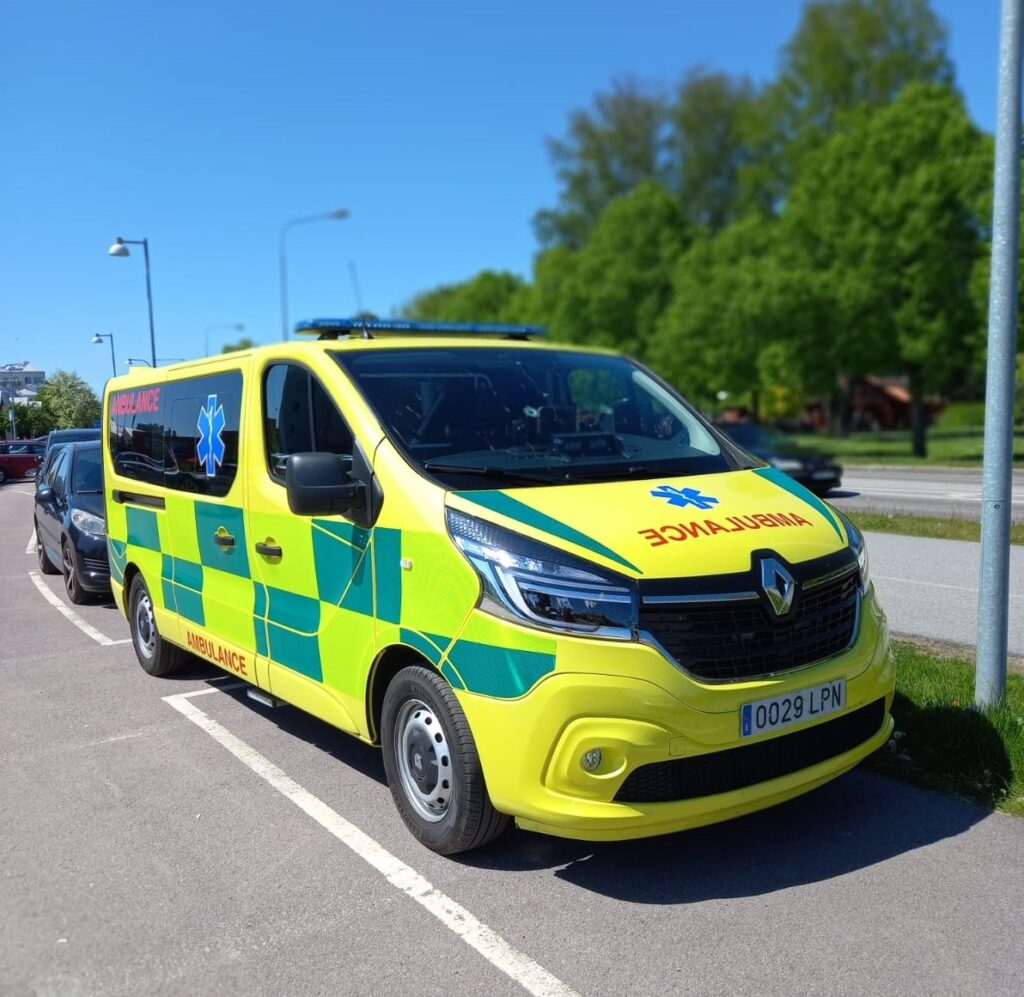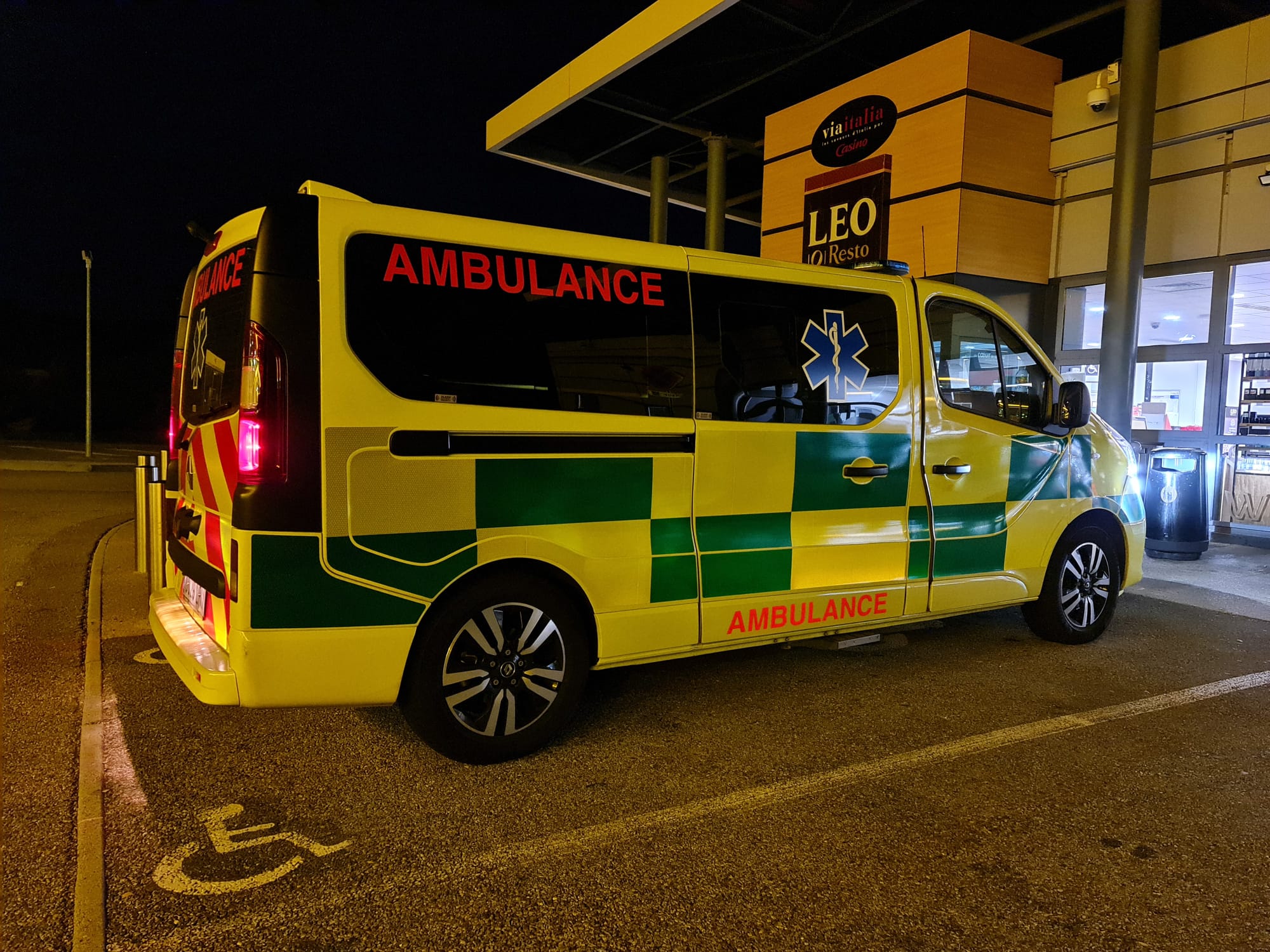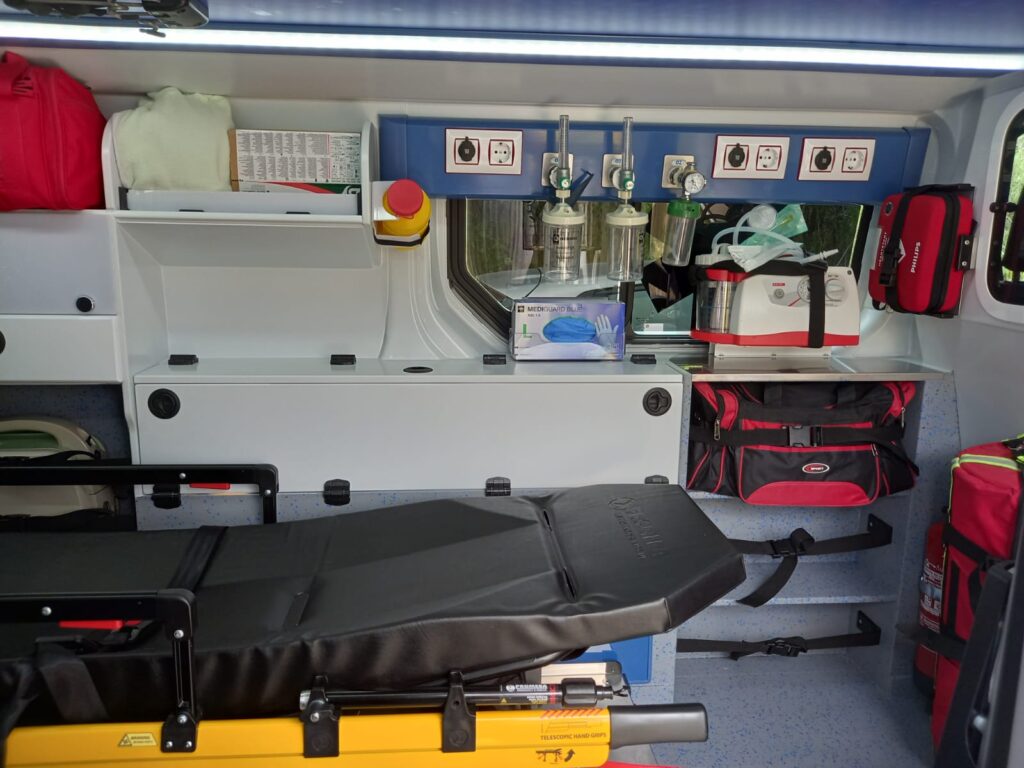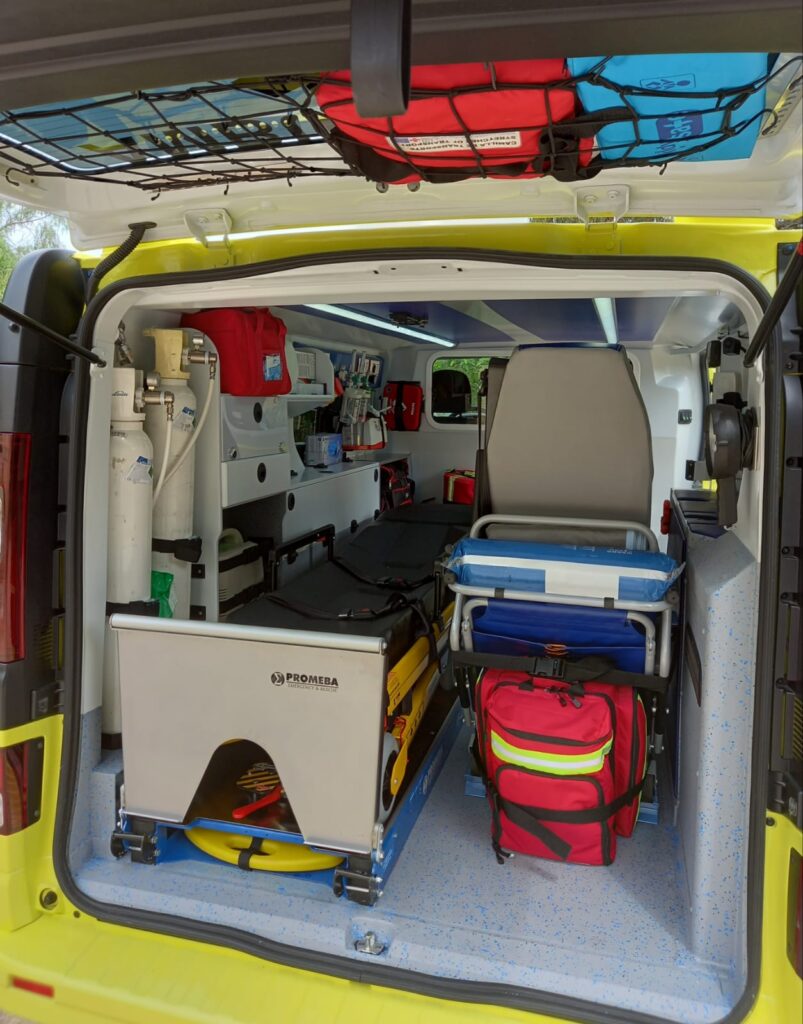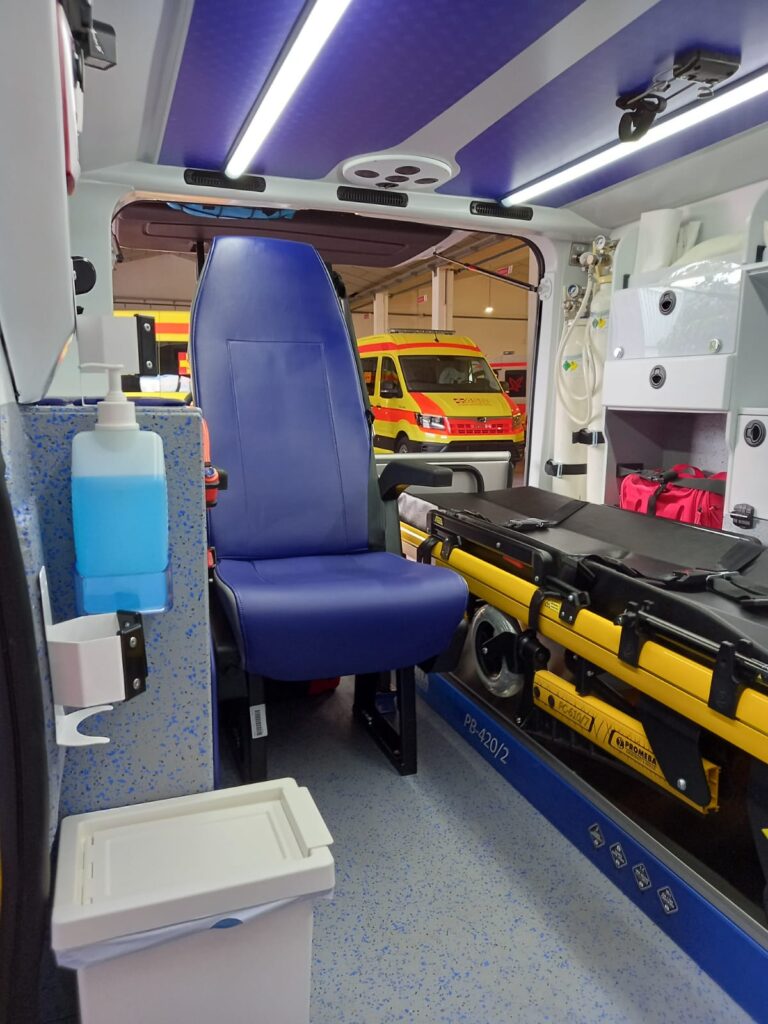 For information about prices: We normally respond within 10 minutes. And a price on a transport in less than 5 minutes.

Please contact us at:
info@private-ambulance.eu
Phone / WhatsApp: 0034 666 169 726 " Price on a transport in less than 5 minutes. "
Between these hours 9.00 and 21.00
Phone / Fax: 0034 965 057 313
We can still transport anyone who needs to get back to UK.
Get in touch with us today for your FREE quote.